<div style="background-image:url(/live/image/gid/95/width/1600/height/300/crop/1/42360_HOMECOMING_darker.rev.1523377981.jpg)"/>
Communications and Marketing
Alumna wins prestigious Pura Belpré Honor award
The Only Road written by Alexandra Diaz '04 has won the Pura Belpré Honor award "presented annually to a Latino/Latina writer and illustrator whose work best portrays, affirms, and celebrates the Latino cultural experience in an outstanding work of literature for children and youth."
The Only Road (Simon & Schuster/Paula Wiseman Books) is a gripping and realistic middle grade novel about 12-year-old Jaime's treacherous and life-changing journey from his home in Guatemala to live with his older brother in the United States.
"Powerful and timely." — Starred review from Booklist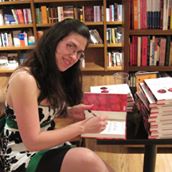 The award was announced at the American Library Association Mid-Winter Conference in Atlanta, Georgia on January 23, 2017; the award ceremony will take place at the American Library Association Conference in Chicago in June 2017.
As a native Spanish speaker, Diaz also translated (along with her mother) the novel into Spanish, El único destino. Her other books for young adults include When We Were (formally titled Of All the Stupid Things), an ALA Rainbow List book and a New Mexico Book Award finalist, and Good Girls Don't Lie which was published in the fall of 2016. The daughter of Cuban refugees, she now lives in Santa Fe, but got her BA in English at Lake Forest College and MA in Writing for Young People at Bath Spa University in England. Diaz teaches creative writing and circus arts to youth and adults, though not at the same time.
For additional information please visit Diaz's website www.alexandra-diaz.com or contact Diaz at adiaz@alexandra-diaz.com.