<div style="background-image:url(/live/image/gid/95/width/1600/height/300/crop/1/42360_HOMECOMING_darker.rev.1523377981.jpg)"/>
Communications and Marketing
Worker traffic to increase
Students, faculty and staff can expect an increase in construction traffic as more workers, including plumbers and electricians, arrive on campus to work on the Lillard Science Center.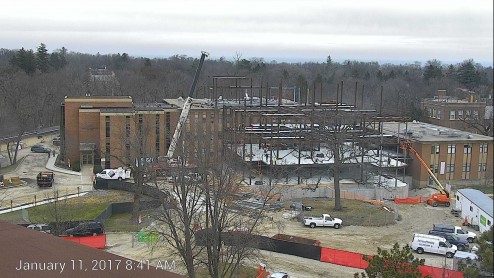 The stairway between the first floor of J-A and the old J-C was removed, as well as the offices near the elevator. Open spaces of the former offices will be walled off.
Work on a temporary building enclosure has begun and will continue through early February. The first concrete deck pour—for the first floor—is scheduled for the end of January. Each deck pour involves roughly an 18-day cycle.