<div style="background-image:url(/live/image/gid/95/width/1600/height/300/crop/1/42360_HOMECOMING_darker.rev.1523377981.jpg)"/>
Communications and Marketing
Discovering careers in the creative arts
Students explored the wide range of creative arts careers when they met with three young alumnae—an arts auction house account exec, a theater company house manager, and a web designer—during an on-campus event hosted by the Career Advancement Center.
"We talked about the real nitty-gritty of finding a career that you're passionate about," Elin Alexander '15, a web designer at Americaneagle.com, said.
Alexander joined Cassia Baker '15, an account executive at Leslie Hindman Auctioneers, and Samantha Kaser '15, the house manager at Lookingglass Theatre Company, back on campus to speak with current students about their careers in the creative arts.
"By hearing from recent alumni who are working in the arts, 'Finding Your Fit in the Creative Arts' helped students realize that their own dream job is achievable. Talking with alumni who are just one step ahead helps students envision their own next steps after graduation," said career advancement center assistant director Victoria Beagle, who leads the Creative Arts Career Pathway.
The alums spoke about the importance of getting meaningful internships and professional experience to grow their portfolios as well as how the In The Loop Program provided an edge when looking for a career in Chicago.
"When you have a career in the arts," Alexandar shared, "it's important to further your skillset in the office, not take anything personally, and adapt to your client and company's requests utilizing your expertise."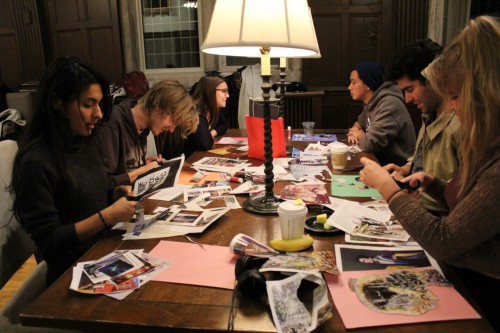 Students look through magazines to create a collage that represents their interests and career aspirations.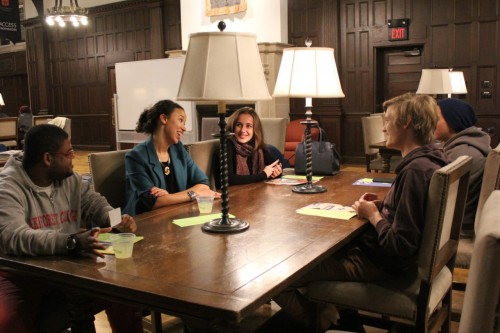 Cassia Baker '15 speaks with students about her experience finding a job in the creative arts.