<div style="background-image:url(/live/image/gid/95/width/1600/height/300/crop/1/42360_HOMECOMING_darker.rev.1523377981.jpg)"/>
Communications and Marketing
Impressed by success
Lake Forest business students turned heads at the 2016 Collegiate Entrepreneurs' Organization (CEO) National Conference and Pitch Competition that drew 1,000 students and faculty from 150 universities in the U.S.

Sydney Gardner '17 advanced to the second round of the national elevator pitch competition during the three-day conference in Tampa, Florida, and three Foresters shared their success stories with standing-room-only crowds:
Tyler Armentrout '18, president of Lake Forest's CEO chapter, spoke about the group's top strategies for marketing its events on campus. He was among a group of 10 panelists hand-picked from across the country to present their organization's game plan.
An hour later, Armentrout was back in front of another packed audience, this time with Sakhile Nkambule '17 and Anthony Conn '17. The three presented "Full-time Student/Part-time Entrepreneur" and were the only students selected to explain how they juggle running a business or planning a startup while going to college. 
"We don't realize, at Lake Forest, how far ahead we are compared to other colleges in terms of thinking as a business major," said Nkambule, who remotely runs his Swaziland-based business, Swazi Jive—a full-service entertainment company that organizes music events, merchandising, and boasts its own music label—while he attends college full-time.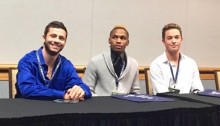 "They have the four Ps of marketing and we go into the field and have conversations with CEOs and experiences like Pitch It, where you stand in front of a real crowd and sell your vision in five minutes," he said. "They lack that insight."
Armentrout believes the Foresters who attended the conference brought positive attention to the College. In all, six Foresters attended the conference: Armentrout, Conn, Gardner, Nkambule, Lucia Stumbras '17, and Elisheva Wosk '17.
"The students representing Lake Forest College aren't just business minds or sales people," Armentrout said. "Our students represent a student body that is cultured and well-rounded academically. With an already diverse group of Lake Forest students attending the conference, I was impressed by our group's ability to intelligently discuss a variety of topics, aside from just business, while networking. Most students at the conference were very one-dimensional. I think that's a huge advantage."
The Lake Forest session "was extremely well attended" and the Foresters' invitation to present at the conference "absolutely speaks well to what's happening at the College," said James Zebrowski, managing director of the Collegiate Entrepreneurs' Organization headquarters in Tampa. "I heard nothing but great things about Lake Forest."
Assistant Professor of Business and Director of Entrepreneurship and Innovation Darlene Jaffke, who also attended the conference, witnessed first-hand how well Lake Forest students represented the College in the entrepreneurial community.  "Attending this conference provided each of our students with a valuable insight on entrepreneurialism as well as providing another avenue to spread the word about the entrepreneurship and innovation program at Lake Forest College," she said.
The conference was held October 27–29.