<div style="background-image:url(/live/image/gid/95/width/1600/height/300/crop/1/42360_HOMECOMING_darker.rev.1523377981.jpg)"/>
Communications and Marketing
Learn resiliency strategies to thrive during stressful times
Most students struggle at times when things don't go as planned. Not getting that internship, performing poorly in an important game, or failing an exam will undoubtedly ratchet up a student's stress level.
Life after college is no different. Constant change and high-pressure situations increasingly shape many modern workplaces. It's essential for students to build resilience to survive those challenges, and this is something that's possible for all of us, says Dr. Alex Lickerman, author of The Undefeated Mind: On the Science of Constructing an Indestructible Self.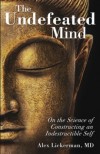 The Undefeated Mind is a book about how to surmount the suffering that life throws our way. The tools in his book can help individuals stand strong when tested.
The College has invited Lickerman to campus to meet with students, faculty, and staff and explain how we all can thrive in the face of adversity, rather than falling apart.
"Resilience isn't something with which only a fortunate few of us have been born, but rather something we can all take steps to develop," Lickerman said.
Lickerman formerly was head of Student Health and Counseling Services at the University of Chicago where he initiated efforts to promote student resilience on campus as part of a consortium of colleges including Harvard, Stanford, and the University of Chicago.
Lake Forest College will host a talk by Lickerman at 7 p.m. on Wednesday, November 2, in the Lily Reid Holt Memorial Chapel. This program is sponsored by the Career Advancement Center, Health and Wellness Center, Forester Five Committee, and Learning and Teaching Center with generous support from a donor committed to helping graduates be prepared for the stress associated with pursuing high-pressure careers. This program is one of a series of activities designed to help students navigate challenging times and to develop the resilience that comes from honing a growth mindset.