<div style="background-image:url(/live/image/gid/95/width/1600/height/300/crop/1/42360_HOMECOMING_darker.rev.1523377981.jpg)"/>
Communications and Marketing
Diana Nyad '73 to speak on new book
Diana Nyad '73 will speak at the Union League of Chicago on Wednesday, September 7, about her new book, Find a Way.
When Nyad arrived on the shore of Key West, Florida, on September 2, 2013, after nearly 53 hours of grueling swimming across an epic ocean, she not only set a world record—becoming the first person to swim the shark-infested waters between Cuba and Florida with no cage for protection, she also succeeded in fulfilling a dream she first chased at age 28 and at long last achieved when she was 64.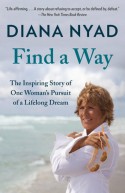 Nyad will speak about her riveting memoir, Find a Way, in which she shares a spirited account of what it takes to face one's fears, engage one's passions, and never ever give up. 
The Union League Authors Group event begins with an 11:30 a.m. reception followed by lunch and the program at noon. The price is $60 per person, which includes lunch and a copy of the book, Find a Way. The Union League is located at 65 West Jackson Boulevard in Chicago.
For more information and to register, click here.