<div style="background-image:url(/live/image/gid/95/width/1600/height/300/crop/1/42360_HOMECOMING_darker.rev.1523377981.jpg)"/>
Communications and Marketing
Alumnus surprised with $25K national teaching award
Matthew Patterson '00 learned during a surprise announcement in his classroom that he's one of four teachers nationwide to win the 2016 Fishman Prize for Superlative Classroom Practice, a $25,000 award recognizing the nation's most effective teachers working in high-need public schools.
The 12th grade English teacher at Benjamin Banneker High School in College Park, Georgia, was described as "a tremendous educator" who has an "undeniable commitment to his students and their development," Banneker High School Principal Duke J. Bradley said. "He is driven by the opportunity to see his students come into a realization of themselves and their abilities. Our teachers and students alike have learned so much about compassion, empathy, and belief from Mr. Patterson."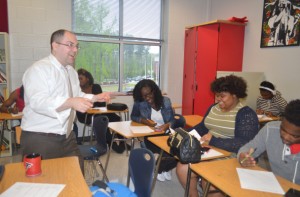 Alongside his colleagues, Patterson has been working to change the school's reputation. And he's getting results: For six of his 10 years at Banneker, his students have been the only students in the school to pass an Advanced Placement (AP) exam.
This summer, Patterson will join the three other Fishman Prize winners for a six-week residency with education leaders across the country and write essays capturing their insights as expert practitioners in the classroom.
The Fishman Prize is extremely selective, boasting thousands of nominations each year and nearly 800 teacher applications in 2016. The applicants undergo a six-month selection process in which they submit essays, teaching videos, and letters of reference, and agree to an unannounced in-person classroom observation. Ten finalists were selected for in-person interviews with an expert panel of judges in New York City before four were ultimately named winners.
To learn more about the Fishman Prize, including past winners, finalists and honorees, click here.