<div style="background-image:url(/live/image/gid/95/width/1600/height/300/crop/1/42360_HOMECOMING_darker.rev.1523377981.jpg)"/>
Communications and Marketing
Phi Sigma Iota inducts 34 new members
Thirty-four students were inducted into the Mu Chapter of Phi Sigma Iota—the international foreign language honor society—on April 14 in a special ceremony at Glen Rowan House. 
Stephanie Scholl '16, a Spanish major, won the Superlative Achievement in Linguistics Award for 2016.
"Being recognized for something that I have worked toward since kindergarten is humbling and allows me to reflect on how far I have come as a Spanish student," Scholl said.
She thanked her advisor, Associate Professor of Spanish and Chair of Modern Languages and Literatures Gizella Meneses, "who has had an unbelievable influence on my success as a student."
Phi Sigma Iota is the highest academic honor in the field of foreign languages. There are approximately 250 chapters of Phi Sigma Iota at institutions of higher learning in the U.S., Mexico, and France.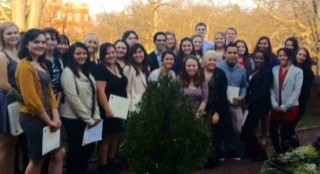 2016 Inductees
Niah Anson '18
Eric Avila '17
Evelyn Bello '17
Aurore Boyer '17
Nancy Cardenas '17
Marisol Carreon '18
Vincent Cerda '16
Bianca Cervantes '17
Matt Chu '16
Lily Collins '18
Evelyn Cruz '19
Kendall Gibson '19
Lauren Hatton '17
Rebecca Hernandez '18
Xinrong Huan '16
Magdalen Kroeger '18
Margo LaClair '19
Cameron Marchese '17
Krista Meuli '18
Reegan Miller '18
Emily Murman '19
Uwamba Nadeige '17
Yuri Parasiuk '16
Alexa Parmley '16
Jillian Rashid '18
Abigail Richardson '16
Jane-Elise Ryer '19
Arsh Shah '16
Kirsten Slora '17
Yvette Tenenbaum '19
Victoria Torres '19
Alexa Williams '16
Edward Yonkers '16
Jaqueline Zamudio '18