<div style="background-image:url(/live/image/gid/95/width/1600/height/300/crop/1/42360_HOMECOMING_darker.rev.1523377981.jpg)"/>
Communications and Marketing
Honoring retiring faculty
Four faculty members retiring at the end of the current academic year were honored for their combined 142 years of dedication and service to the College during a celebration in Calvin Durand Hall on April 20.
Retiring this year are: Associate Professor of Spanish Lois Barr, Professor of Spanish David George, Professor of Philosophy and Director of the Center for Ethics Lou Lombardi, and Deane Professor of Biochemical and Biological Sciences Bill Martin.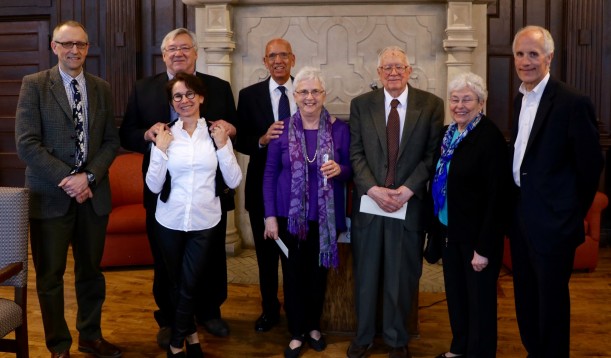 Provost and Dean of the Faculty Michael Orr (left) and President Stephen Schutt (right) honored the 2016 faculty retirees. Professor David George (second from left) and his wife, Associate Professor Lois Barr and her husband, and Deane Professor Bill Martin and his wife.
In her 20 years in the College's Department of Modern Languages and Literatures, Barr has distinguished herself as an "accomplished poet, creative writer and painter," Provost and Dean of the Faculty Michael Orr said. "She has brought an enthusiasm, energy, spontaneity and passion for language and for teaching to the department and the College."
Barr was a recipient of the Dunn Award for Outstanding Teaching and Scholarly Promise. She is the author of one book and co-editor of another. She also has been a film maker, serving as the executive producer of a documentary on the singer Isa Kremer that has been widely shown on PBS and featured in international film festivals.
Orr called George, who joined the College in 1985, a "mainstay of the modern languages and literatures department for the past 31 years." George was a recipient of the Dunn Award for Outstanding Teaching and Scholarly Promise and was recognized with the Trustee Award for Teaching Excellence and Campus Leadership.
During his career, George has published five books and an original play; numerous translations and over 60 scholarly papers, articles, or reviews. He has received seven separate National Endowment for Humanities grants or fellowships and has twice been recognized with a Visiting Scholar Fellowship at the University of Illinois and University of Chicago's Joint Center for Latin American Studies. In 1988, he received the Oskar Nobiling Medal for contributions to research and teaching on Brazilian literature.
President Stephen Schutt commended Lombardi for contributions to both the intellectual life and the social fabric of the campus for the past 36 years. "A dedicated member of our campus Intercultural Advisory Group since its inception, he gives serious thought to issues of culture, diversity, fairness and equality, and has worked hard to make our community accountable to the ideals we jointly hold," Schutt said.
Lombardi is a recipient of the College's Bird Award, has been the philosophy department chair for many years, and also has chaired the College's program in social justice studies, directed the Ethics Center, and regularly served on governance committees, Schutt said of Lombardi, who was unable to attend the reception.
With 55 years at Lake Forest College, Martin is the longest-serving faculty retiree this year. "No one has ever had greater impact on the study of chemistry on our campus," Schutt said. "His standards are high and—for students who try to meet them—his willingness to help is unlimited."
Throughout his career, Martin has directed hundreds of students in research projects. "As a special form of support for student and faculty research projects, Bill has long provided painstaking care and maintenance of the College's scientific equipment and facilities," Schutt said. 
In special recognition of Martin's long career on campus, and thanks to generous support from alumna Carol Gram Deane '74, Schutt announced that the organic chemistry teaching laboratory in the new science facility will be permanently named for Martin.