<div style="background-image:url(/live/image/gid/95/width/1600/height/300/crop/1/42360_HOMECOMING_darker.rev.1523377981.jpg)"/>
Communications and Marketing
Alums stick together from Hixon Hall to the Chicago Bulls
A friendship that blossomed in theater at Lake Forest College continues today as Charlie Alves '08 and Tom Sargent '10 work together to bring that extra spark to Chicago Bulls' home games.
The Lake Forest alums and colleagues share their thoughts on working for
the Chicago NBA team—and the role Lake Forest College played, where Alves majored in theater and Sargent, communication.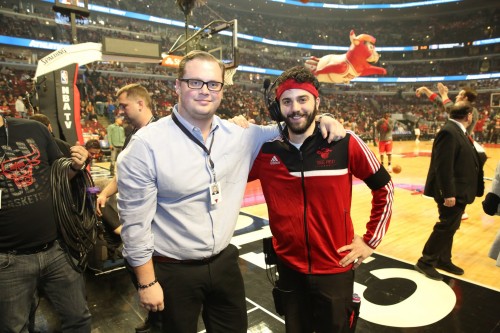 Charlie Alves '08 and Tom Sargent '10 Credit: Oren Amzaleg
What do you do for the Chicago Bulls?
Alves: "I'm the production consultant for the Entertainment Department, which has involved consulting and bringing the latest and greatest production techniques (pyrotechnics, video, projection mapping, lighting, etc.) that were developed around the world and bringing them right here to the United Center and Chicago. With my experience in the touring world of rock and roll and electronic dance music, I have been able to bring another element to the already amazing Entertainment Department of the Chicago Bulls."
Sargent: "My title is entertainment assistant, as I help out with several aspects of game day entertainment, ranging from setting up the CO2 T-Shirt Gatling Gun, to hiring actors for short videos. The majority of my work, however, is focused on Benny The Bull. I handle the booking and logistics for the events he attends, manage his props and costumes, and I assist Benny during all home games and events. On the creative side, I get to collaborate with Benny on ideas for on-court skits, videos, and social media platforms." 
What experiences and skills did you gain at Lake Forest College that you use today in your work with the Bulls?
Alves: "I was taught early on in my theater career—during one of my many field trips to the city—that theater and sport are one in the same. A lot of the presentation elements that we use in theater can help deliver sports to the fan in a way that live theater cannot. Lake Forest College gave me a blank canvas in the theater to work on and explore my talents as video designer/engineer, which led me to want to design sets and lights. I learned how to cater to an audience in the round, which is what the NBA is. You have to design a show that is visible 360 degrees at all times, which can always be a challenge—but also fun, at the same time."
Sargent: "Working in the Lake Forest College theater really helped mold me for a career in sports theater. As Benny's right-hand man, I do a lot of speaking and performing, so my time on stage was extremely valuable. Even more valuable though, was my time spent behind the scenes. Working in such a small theater forced us to think outside of the box to make our sets both functional and visually appealing. I also learned to be comfortable with tools and careful with costumes. Now, I build props on a large scale and put together costumes for one of the most recognizable mascots in all of sports, which definitely requires I think outside of the box."
What is it like working together professionally after working together in College?
Alves: "Tom and I became very close friends right off the bat at Lake Forest College. In our post-college days, we maintained our friendship while I left and started to travel around the world. Seeing his life and spirit light up when he started working for one of the most storied and famous sports franchises in the world was super inspiring to be on the sidelines and supporting. He actually recommended me for the position at the Bulls. There was zero hesitation, not just at the opportunity to work with the Bulls, but also to go and work again with my best friend. The stage has gotten bigger, the stakes have gotten higher, but the fun hasn't gone away." 
Sargent: "Working with Charlie is always effortless, because he is amazing at what he does and has a 'get-it-done' attitude. I have been following his professional career since before I graduated, so when I stepped into the entertainment department with the Bulls, I knew his talent would be beneficial to us. The main difference between working with Charlie then and now, is really just the scale of the space we work in…and maybe 21,975 more people in the audience. In college, we were in a small black box theater, so if Charlie was up in the tech booth and needed a cord I could just throw it to him from the stage. Now, we work in the United Center, where the booth is seven stories up and the court is bigger than the entire Lake Forest College theater. It has been a welcome challenge."