<div style="background-image:url(/live/image/gid/95/width/1600/height/300/crop/1/42360_HOMECOMING_darker.rev.1523377981.jpg)"/>
Communications and Marketing
Three weeks in the field
Professor Glenn Adelson will lead a summer field school where students will travel around Lake Michigan on a three-week camping trip to study the flora of the Great Lakes.
Environmental Studies 205/Biology 205 Field School: Lake Michigan Flora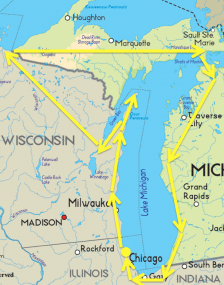 provides a special opportunity for students to learn about the identification, systematics, evolution, ecology, and natural history of the summer flora surrounding Lake Michigan.
"This is an extensive off-campus three-week field course in Illinois, Wisconsin, Michigan, and Indiana," Adelson said.
The course meets locally July 5–7 for introduction and orientation. The group will circle Lake Michigan July 8–28.
On the trip, students will learn to identify between 150 and 200 species of wildflowers, grasses, trees, shrubs, and other plants, and the characteristics of 15 to 20 plant families. 
"Extensive camping is involved and students should expect to have serious fun," Adelson said.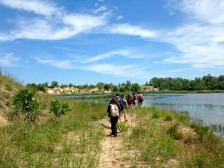 Environmental Studies, an interdisciplinary program, has become a popular major at Lake Forest College.
Click here to view a video of Adelson talking about the latest summer field school.