<div style="background-image:url(/live/image/gid/95/width/1600/height/300/crop/1/42360_HOMECOMING_darker.rev.1523377981.jpg)"/>
Communications and Marketing
Hall of Famer
Professor of Mathematics, Emeritus Bob Troyer, who started playing racquetball in 1968, was recently inducted into the Illinois Racquetball Hall of Fame.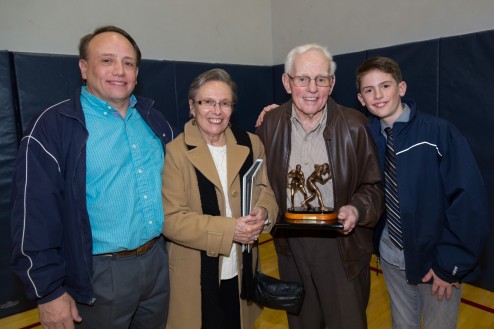 Bob Troyer celebrates with his family—son Greg, wife Mary Lou, and grandson Jack—during his induction into the Illinois Racquetball Hall of Fame. Credit: Juan Martinez, Motorola Solutions Inc.
Here's his complete speech:
"I learned to play handball during my undergraduate years at Ball State and continued playing handball after graduation. In 1968, we moved to Lake Bluff and I began teaching mathematics at Lake Forest College. Racquetball was a growing sport at that time. Having played tennis at Ball State, it was a natural transition to racquetball.
"Al Hanke, the wrestling coach at Lake Forest College, and I decided to enter the state doubles racquetball tournament held in Evanston. Believe me, it was nothing like the state doubles held here at the Glass Courts a couple weeks ago or the state singles being played here this weekend. There was only ONE division. To our surprise, players had metal racquets (nothing like the sawed-off tennis racquets we were using) and they were hitting ceiling shots. (By the way, Al and I came in second.) As soon as I got home, I ordered a 'Bud Muehleisen' model racquet from the Ektelon racquet company in California. Waiting time: six weeks!
"Once my new racquet arrived, I would go to our Sports Center at 7:30 a.m. two or three times a week to practice. (At 7:30 in the morning, there was never a long line of college students waiting for court time!)
"For many years, I continued to play in state, regional, and national tournaments. I also played in several masters invitational tournaments, both singles and doubles. The competition was great, but what I enjoyed most and will remember are the many friends I made and the great people I met.
"Let me conclude with a story. My passion is and always will be teaching mathematics, which I have done for over 50 years. There were occasional days that seemed special. Maybe it was an elegant solution to a calculus problem put on the board by a student or maybe it was a beautiful proof in modern abstract algebra. I would step back, point to the board and say, 'Wasn't that beautiful, it kind of makes one tingle all over.' (The student response was always interesting.) Being voted into the ISRA Hall of Fame is very special; it kind of makes me tingle all over!"