<div style="background-image:url(/live/image/gid/32/width/1600/height/300/crop/1/41839_V14Cover_Lynch_Artwork.2.rev.1520229233.png)"/>
An Interview with Ken Weik: A Crusader for Nature
Hannah Samberg 
Department of Biology 
Lake Forest College 
Lake Forest, IL 60045
Lake Forest College professor emeritus Kenneth Weik gleamed with enthusiasm as he spoke about his lifelong passion for the natural world. His interest in science stemmed from his childhood when his family would take frequent trips to Wisconsin. Professor Weik's father was a fisherman and throughout his young years Weik became absorbed by the natural setting of water and land and the beauty that surrounded him while fishing. In Professor Weik's words, "the clear water lakes, aquatic plants, and surrounding forests filled with birches, maples, and conifers stood out in sharp contrast to the domesticated trees and flowering plants that lined the streets and filled yards in suburban Chicago." These experiences sparked dreams of traveling to exotic environments in order to learn from them and explore them. As our conversation unfolded I began to realize that these childhood aspirations became a reality over the course of Professor Weik's career.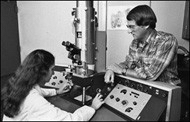 Professor Weik attended Leyden High School in Franklin Park, Illinois. During High School he became interested in Biology, and in particular the study of plants, trees, and protozoan. As he graduated and went on to attend Northern Illinois University, Weik planned to pursue a career as a High School Biology teacher and cross-country coach. After completing an undergraduate degree in Advanced Biology with a minor in Physics, Professor Weik decided that he wanted more practical training and went on to complete a masters and PhD in Botany at Southern Illinois University (SIU). Weik's mentor at SIU, Professor Robert Mohlenbrock, a well-known classical plant taxonomist, was aware of Weik's interest in protistan organisms and suggested that he pursue a state-wide survey of the green flagellate, Phacus, a close relative of the better known Euglena. Professor Weik gained from his mentor an easygoing teaching style and demeanor with an emphasis on field work. Professor Mohlenbrock then proceeded to kick-start Weik's career by urging him to take a teaching job at Knox College. The warmth of his experience at such a small school led Weik to take a job at Lake Forest College in 1967.
Weik taught a variety of courses at Lake Forest, beginning with the botany of higher and lower plants, specifically, vascular and non-vascular plants. He says that the most challenging aspect of teaching is making the lessons applicable to students in a real way. Weik bridged the gap between classroom learning and the practical world by bringing students into a natural setting. They began by collecting wild flowers in Southern Illinois and eventually he pioneered an overnight trip to Galena, Illinois. Weik believed that immersing students in the real tactile and visual experience of nature was a great way to learn. He continued the trend of engaging students in more fieldwork by developing a Marine Biology class at LFC. A partnership with the Shedd Aquarium blossomed and the college gained access to the Shedd's 85 ft. collecting vessel, complete with a captain and a first mate. Weik took students on the vessel to Pigeon Key, Florida on missions to explore marine biology. But Weik wanted to take things a step further, as he put it, "we wanted to do something awesome!" So he created a program that brought students to a field station in the vibrant coral reefs of San Salvador, Bahamas. He described the experience:
We took them on tiny planes that could only carry six people at a time, lived in wooden buildings, and had a blast! Some days we would take them out onto the reefs, and others we would hold lectures back on land. Twice a week there was a "rip" where we went to the bars in town. The kids would dance and have fun, and we would make sure everyone got home safely. As I think back on my career, I realize that I couldn't have enjoyed the courses I taught at Lake Forest at a larger school – I would have been put in a slot.
I asked Professor Weik how the teaching of Biology and Botany has evolved since he joined the field. His reply revealed his deep passion for teaching and respect for all natural processes. He explained the importance of teaching Biology classes in a cohesive manner,
This is a department about life…if there is too much compartmentalization [between classes] and nothing to tie those experiences together then it won't make sense to students.
He believes that professors should not necessarily try to cram as much detail as possible into their lectures, but rather strive to maintain a cohesiveness that helps students understand the basic patterns of life. Weik stated that, "if I were to go back 40 years, I would want to specify that even though a class may be about plants, when you get down to it, there are still cells that go through the same processes that any other cell does - it's really beautiful and marvelous to me." Professor Weik had a strong desire not only to bridge the gap between the classroom and nature, but also between botany and the larger field of Biology, in an attempt to make the material more enlightening for students.
A traveler, a teacher, and a true nature enthusiast, Weik has fought for the preservation of nature throughout his life. Betsy Luhn, chair of the Biology department during part of Weik's time at LFC, prompted him to get involved in, and eventually become president of, the Illinois Dunesland Preservation Society. The society is an environmental organization dedicated to protecting the natural beauty and integrity of the Illinois Beach State Parks. Just before his retirement in 2001, Professor Weik became a board member of the Liberty Prairie Reserve, which strives to recreate prairie environments in Lake County.
After retiring, Weik continued to teach a freshman seminar at the college titled "Astrobiology: The Search for Life beyond Earth". This macroscopic course on the theme of life embodies what Weik strove for in his career: connecting microscopic concepts to the larger encompassing field of life, in protozoa, plants, animals, and even in outer space. Professor Weik is a crusader for nature and the planet, and an inspiring role model for students who strive to think deeply and to actively use our natural world as a space in which to learn.