<div style="background-image:url(/live/image/gid/32/width/1600/height/300/crop/1/41839_V14Cover_Lynch_Artwork.2.rev.1520229233.png)"/>
The Scholar of the Third Floor
Rachel Granberg
Department of Biology 
Lake Forest College 
Lake Forest, IL 60045
Dr. Martin's excellence in teaching is evident by the fact that he has been at the college for more than 50 years. While this is no easy feat, it is his particular style of teaching that impacts his students. Organic chemistry and biochemistry are some of the most difficult subjects students will encounter during their undergraduate years, but Dr. Martin combats this difficulty by being consistently available to his students. At many colleges, and with some professors here, you will only find outside one-on-one attention during the specifically structured office hours, but not with Dr. Martin. Whether it's before an 8 AM class, after a 4 PM lab, or even on Saturday mornings, you will find him in his office willing to help you work through the complex matters of solid state synthesis and the pentose shunt pathway.
Consistently available, but challenging is the best way to describe Dr. Martin's teaching style. Olga Kutkovska remembers Dr. Martin as "one of the very few professors who actually pushed and challenged me with the material he was teaching." Entering his office with a question usually meant that you would be asked a multitude of questions until you were able to work out the problem and understand it completely. Anastasiya Koshkina notes how "this key feature of Dr. Martin's teaching style, develops logical thinking which can be applied to many areas outside of chemistry." Instead of simply answering questions, he engages students and directs them towards the right answer. This may not be the fastest route to the right answer or the easiest for the professor, but it facilitates teaching in a way that encourages students to problem solve.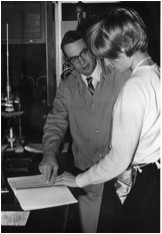 Dr. Martin's influence is something that sticks with and alters the life of his students. Dr. Fischer, a current chemistry professor alongside Dr. Martin, was one of his former students and her experience in his classroom is a major reason that she is here today. She had originally started with the non-major sequence of chemistry, but once she took organic with Dr. Martin she became hooked by his passion for the subject. She notes that what makes him unique is his tremendous respect for students, his way of challenging them, and his overall immensity of knowledge. This knowledge is not specific to chemistry. Instead, he is a true scholar and as such his interests encompass "all aspects of human experience." When you have him as a teacher you learn not only the mechanism of organic chemistry, but also the history of it.
With his expertise and wisdom Dr. Martin is known for not only being tremendously helpful towards students, but also new and old faculty members. Dr. Fischer explains that colleagueship is very important to him and furthermore, "he wants to have an interaction that is truthful, so you may not always agree. With him, you have the ability to agree to disagree, but continue to work harmoniously as colleagues." Dr. Martin has created an environment of mutual respect between colleagues and students, allowing for free and open communication for the betterment of education.
Learning from Dr. Martin is challenging, but allows you to grow as a chemist and as an individual. His passion for chemistry and facilitating student learning is truly without parallel. The impact that he has will be a pervasive and positive one for those who were fortunate enough to experience him in the classroom or as a colleague. As such, Eukaryon would like to thank him for his over 50 years of facilitating student learning.
Note: Eukaryon is published by students at Lake Forest College, who are solely responsible for its content. The views expressed in Eukaryon do not necessarily reflect those of the College. Articles published within Eukaryon should not be cited in bibliographies. Material contained herein should be treated as personal communication and should be cited as such only with the consent of the author