<div style="background-image:url(/live/image/gid/95/width/1600/height/300/crop/1/42360_HOMECOMING_darker.rev.1523377981.jpg)"/>
Communications and Marketing
Sharing research results
First-Year Studies students presented their semester-long research project to visiting high schoolers and teachers from Chicago's Von Steuben High School on December 3.
The goal of the study in the "Exploring Adolescence" class was to identify what factors motivate and engage adolescents at Von Steuben, a public school on Chicago's North Side. The class' research results indicated that teens who felt safer in school and said their teachers were interesting, caring, humorous, energetic, and had high expectations for them were more motivated and engaged in high school.
Led by Associate Professor and Chair of Education Rachel Ragland, the class took three trips to Von Steuben to research their project. On the first visit, they met with Principal Laura Lemone,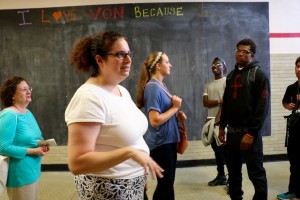 a 2001 Lake Forest alum, who gave them a tour of the building and described student demographics and school culture.
On their second visit, the First-Year students observed classroom teaching and laid the groundwork for their data collection. The third visit included distributing nearly 200 surveys created by the students and conducting 20 on-on-one interviews.
Back at Lake Forest, Ragland's students analyzed the data and prepared their report, which they presented to their visitors in Meyer Auditorium. "The students did a good job with the research process, which was completely new to them, and gained a lot of skills they will use later during their time at Lake Forest," Ragland said.