<div style="background-image:url(/live/image/gid/95/width/1600/height/300/crop/1/42360_HOMECOMING_darker.rev.1523377981.jpg)"/>
Communications and Marketing
Enterprising and innovative
Five entrepreneurship and innovation students used their time at the 2015 College Entrepreneurs Organization national conference to network, find out what other students nationally are working on—and pitch their own business ideas.
The idea exchange and networking kicked off on the "Innovation Bus" the group took to the conference in Kansas City with students from other colleges and universities.
Once there, they participated in professional development, mentoring, and networking events. Keynote speakers, one of the highlights of the event, included Craig Culver of Culver's, Tru Pettigrew of Tru Access, and Marcelo Claure of Sprint.
Tyler Armentrout '18, a finance and computer science major, participated in the national student elevator-pitch competition—a first for Lake Forest. He advanced to the second round, and gained valuable experience. 
"I never pitched my ideas to hundreds of people watching me on stage, so the experience was very new to me," Armentrout said. "Overall, the event opened my eyes to new industries and problems yet to be solved."
Kristina Simeunovic '16 addressed the lack of women in business and finance. "I created a social media group—for now—to bring female entrepreneurs together and help them feel supported in the business world," the finance and international relations major said. The group, CEO Women2015, can be used by both students and recent grads, she said.
Also attending the CEO conference were Anthony Conn '17, Austin Gais '17, Mariano Garcia '18, and Assistant Professor of Business and Coordinator of Entrepreneurship and Innovation Darlene Jaffke.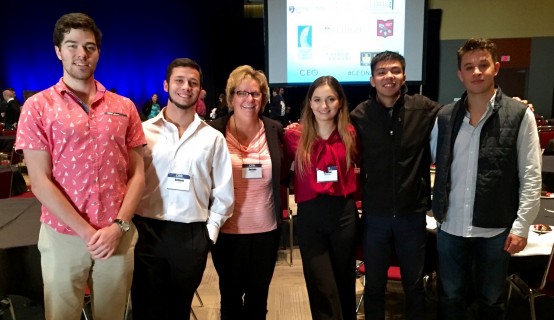 Assistant Professor Darlene Jaffke and five entrepreneurship and innovation students attended the 2015 College Entrepreneurs Organization national conference.