<div style="background-image:url(/live/image/gid/95/width/1600/height/300/crop/1/42360_HOMECOMING_darker.rev.1523377981.jpg)"/>
Communications and Marketing
Foresters lend a hand at pro golf tourney
Forester athletes and coaches are out in full force volunteering at the PGA 2015 BMW Championship in Lake Forest this week.
"We have a group of 68 folks working on Tuesday, Wednesday, Saturday, and Sunday in the concession tent," said Tamlyn Tills, head coach for both the women's basketball and women's golf team.
This is the second time Conway Farms Golf Club in Lake Forest has hosted the prestigious international pro golf event—and a repeat visit for some Forester athlete and coach volunteers.
The 2013 BMW Championship brought swells of spectators to the city of Lake Forest. Officials estimate this year's attendance to top 130,000.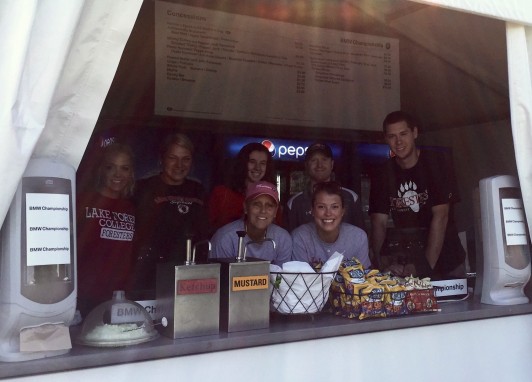 Foresters helping out at the BMW Championship on Tuesday included: (clockwise, from left) Bridget Bilek '19, Alexa Hemmer '16, Sam Ney '18, Assistant Coach Sean O'Malley, Assistant Coach Kyle Nelson, Bri Majkowski '17, and Head Coach Tamlyn Tills.