<div style="background-image:url(/live/image/gid/95/width/1600/height/300/crop/1/42360_HOMECOMING_darker.rev.1523377981.jpg)"/>
Communications and Marketing
Nebraska alums, parents meet up in Lincoln
Twenty-two alums gathered in Lincoln, Nebraska, on September 12 to swap news and get updates on what's happening at the College.
The group met at the Hilton Garden Inn before heading over to the watch the University of Nebraska Cornhuskers take on the South Alabama Jaguars in football. The next Nebraska Forester event will be held the weekend of April 29, 2016, to coincide with the 2016 Berkshire Hathaway Annual Shareholders Meeting. More details to come!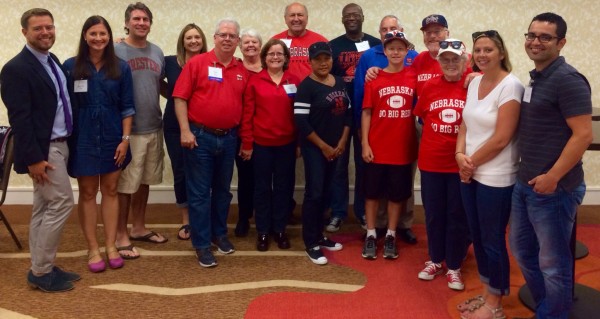 The Nebraska gathering included Chris Way '14, from left, Kelly Gering '97, Rob Mucciaccio (Parent '19), Liz Mucciacio (Parent '19), Dean Way (Parent '14), Bonnie Kolowski, Tracy Way (Parent '14), Rick Kolowski '66, Tere Reed, Ed Cochran '75, Rich Bartolozzi '86, Paul Gabel '85, Sarah Hal-Jaramillo, and Eder Jaramillo '09. 
Others in attendance, but not pictured, included Carmen Maurer (Parent '17), Zoe Maurer '17, Al Stoler (Parent '17), Kim Stoler (Parent '17), Bill Motzer (Parent '03), and Deb Motzer (Parent '03).