<div style="background-image:url(/live/image/gid/32/width/1600/height/300/crop/1/41839_V14Cover_Lynch_Artwork.2.rev.1520229233.png)"/>
Super Freshmen
James Haney and Tara Gloystein 
Department of Biology
Lake Forest College
Lake Forest, IL 60045
Download PDF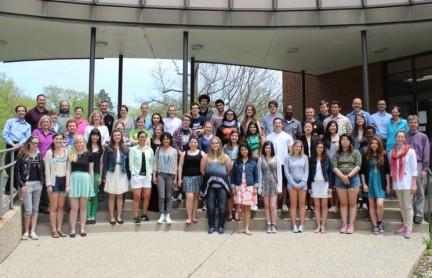 The Richter scholar program is one of the most rewarding and sought after programs at Lake Forest College. The 43 freshman chosen for the program spent the summer before their sophomore year working alongside faculty. Biology students can work with faculty like Professor Shingleton to research how body proportion is controlled in organisms. Art and English students can work with Professor Schneiderman as he experiments with the meaning and value of a novel. Other research subjects include economics, education, and psychology.
Lake Forest College has enhanced the unique, well-established Richter Scholar Summer Research Program by continuing the both the 10-week option as well as the shorter 3-week option. This accommodated a group of 43 students, which was the largest class of Richer Scholars in the program's history. With this transition, students were given additional opportunities and options to engage in independent, individual research with Lake Forest College faculty.
The 3-week option provided greater flexibility for the faculty and students, diminishing the time-commitment concern that may have deterred students from applying. Hailey Hart '17 said she chose the 3-week option because "it was the perfect opportunity to gain valuable research experience, but have the chance to go home for the summer to spend time with her family and work at a hockey camp".
This version of the program was awarded to a select 27 students, that began their projects following commencement. The short time frame of this option forced students to engage in a rigorous targeted research experience. While there was an intended emphasis on short-term outcomes, students did not necessarily end with a definite result or product. However they gained insightful skills and knowledge that will enrich their academic experience and provide a framework for future opportunities. Many of these students will continue their summer work the following year, or join other research projects.
While the 3-week option allowed for flexibility, the 10-week option also comprised of distinctive benefits. Instead of only receiving 0.5 research credits for their work, as students do in the 3-week option, they were rewarded 1 full research credit. Also, after completing 150 hours of work for credit, they were paid a $2,000 stipend for the remaining 250 hours of work.
The 10-week option provided students with ample time to conduct the long-term projects. Lauren Dalecky '17 who worked with Professor Cody in the chemistry department reasoned that 3-weeks would not have been enough time to adequately execute her research project noting that the "first three weeks I just learned how to use the lab equipment." The 10-week option provides students with the time to go further in detail with their research.
Although the Richter Scholar Program emphasizes commitment to scholarly activity, a remarkable aspect of the program was a budget dedicated to funding social activities among Richter Scholars. Katie Wright '16, a previous Richter scholar, was labeled the "coordinator of fun" and was in charge of coordinating activities. She raved, "Both programs engaged in academic activities like visiting museums, but also nonacademic events such as concerts and movies." Sophie Faylor '17 enjoyed getting to know her fellow Richters during the various activities, specifically noting the afternoon they went to the Botanic gardens, and "had a really fun photo shoot around the gardens."
Each of the two durations ended with a symposium, which gave the students an opportunity to presenthe work they had done. Since there were a variety of disciplines conducting research, the topics at the symposiums varied greatly. Professor Don Meyer, who was the director of the summer Richter Summer Program, found this mix of topics stimulating. He said, "This mix is the reason I teach at a liberal arts college. I love the idea that students are hanging out together, yet doing such incredibly different things."