<div style="background-image:url(/live/image/gid/32/width/1600/height/300/crop/1/41839_V14Cover_Lynch_Artwork.2.rev.1520229233.png)"/>
Building Anatomical Foundations: Reflections on the Human Anatomy Course
Saajidha Rizvydeen
Department of Biology
Lake Forest College
Lake Forest, Illinois 60045
Download PDF
The stench of formaldehyde fills my lungs as I walk into the freezing room and pull my white lab coat around me. I inhale deeply after I draw my mask over my nose and mouth, and begin to dissect the cat cadaver lying in front of me. "We're working on the heart today," explains Dr. Dennis Korneff, the instructor for the course. "I want you to extract the heart from your cadaver making sure to preserve the main blood vessels that lead to the pulmonary and systemic circuits of circulation," he adds, alluding to the concepts that were covered in class earlier that night.
Human Anatomy is a new class being offered by the biology department to foster the growing number of students who are entering the health professions. Students taking the course are required to have taken Organismal Biology and one semester of General Chemistry. With new collaborations such as a Pre-Pharmacy program with Rosalind Franklin University of Medicine and Sciences, and a Pre-Nursing program with Rush School of Nursing, this class provides students with an essential pre-requisite to success in such graduate programs. Kyriaki Ades, a junior biology major, aspiring to become a dentist, indicates the benefits of being in the class by noting that "the material learned in anatomy will not only prepare me for my future in dentistry but will also provide me with an overall background of the body and its processes."
Human Anatomy consists of a lab section in addition to the lecture component. The class is specifically offered at night to cater to the availabilities of students of diverse majors who are interested in entering the health professions. Though having a three and a half hour-long class, twice a week, at night could be tiring to most students and athletes, Dr. Korneff ensures that he has the attention and interest of all students as he gives students ample breaks, and encourages group work to create more energy. Upon interviewing Dr. Korneff regarding the unique approaches he takes in teaching this class he explained that he attempts to "encourage discussions of research papers, [watching] animations of anatomical models in class and other unique experiences included[ing] a trip to Rosalind Franklin University to look at human cadavers".
The class takes an organ-systems approach in exploring the intricacies of the anatomical and functional components to the human body. After a brief overview of vital cell and molecular concepts as well as anatomical terminology, the rest of the semester was devoted to detailed analysis of many of the vital organ-systems including the integumentary, skeletal, muscular, endocrine, and cardiovascular systems. During the lab section, students review lecture materials on preserved cat cadavers, sheep brains, and cow hearts. Furthermore, human models are used consistently throughout the course, satisfying its main goal in accordance to the course description as "introduc[ing] the structure of mammalian bodies, with particular emphasis on the human body."
One particularly beneficial part of the class is its connection to modern health professions and the health field. Dr. Korneff, who earned his MD degree from Rush Medical College, has sufficient knowledge of significant health conditions and diseases allowing him to draw direct connections to them in class. Apart from teaching Human Anatomy at Lake Forest College, Dr. Korneff also currently teaches Microbiology at DeVry University Nursing College and Anatomy & Physiology at College of DuPage. In teaching all of these classes, he tries to relate the importance of what we learn to how it will be helpful in our fields of interest whether it is allopathic or osteopathic medicine, dentistry, physical therapy, or biomedical research. He explains that as an MD his initial professional goal was to practice medicine and also to teach it. He goes on to state that he now feels that he can help people by educating students who aspire to be practitioners of the healing arts.
Dr. Korneff further encourages his students to explore their interests in the health field through various other components in the class. One of these was a mid-term research project on a disease or health condition of choice. After writing a three-page paper on the signs, symptoms, treatments and diagnosis of a disease of choice, students were asked to present their research to the class. Another class activity that is bound to be helpful for future students of health professions are the anatomy lab exams. These exams are unique in that they require the test taker to be moving around the classroom from one station to another in timed intervals. Each station presents various models, organs from cadavers, or microscope slides that have blank labels, which students then identify and describe. Successful completion of these exams requires in-depth study of various anatomical models and material presented in lectures.
At the conclusion of the class, many of its students collectively agree that the knowledge gained from this class would serve them well in the future. Jessica Dare, a senior student and member of the women's hockey team summarizes this by saying, "Since I want to be a personal trainer and a physical therapist, what I learned in this course will apply my future." Ades also adds, "This class, even though it is only a 200-level course, has set the foundation for my pre-health profession."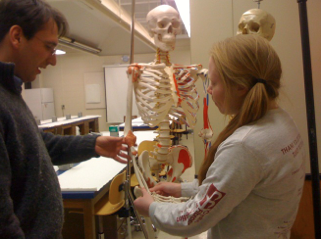 Dr. Korneff uses human skeletal model to review musculoskeletal concepts with student Anne-Marie Adams.