<div style="background-image:url(/live/image/gid/32/width/1600/height/300/crop/1/41839_V14Cover_Lynch_Artwork.2.rev.1520229233.png)"/>
Living and Researching Aboard the Shedd Aquarium's Research Vessel in the Bahamas
Hilary Wind
Departments of Environmental Studies and Biology
Lake Forest College
Lake Forest, Illinois 60045
Download PDF
It's a strange feeling at first, waking up above the surface of the ocean and having no connection to anyone aside from the few people you are living with on an 80-foot vessel. After you acquire your sea legs, and witness the glorious sunrise over the sea each morning, you quickly forget that you are isolated from the rest of the world. The underwater environment and the ocean shore become your world. For two weeks during the summer between my sophomore and junior year, I had the privilege to climb aboard the Shedd Aquarium's research vessel the R/V Coral Reef II to conduct my own research project in Exumas, Bahamas. The field component that took place in the Bahamas was preceded by courses at the Shedd Aquarium in Chicago, where I learned about the Bahamian environment, met the other students and mentors I would be living with, and designed my own experiment to investigate while at sea. 
Upon arrival in Nassau, Bahamas, I was required to navigate to the docks and go through military clearance in order to access the boat. The cross-over from Nassau towards the islands where we were going to be conducting our trials took about three hours—I chose to take my seat on the upper deck towards the bow of the boat, which meant I was constantly getting sprayed with seawater during the incredibly rocky crossover, but it was worth it to see Atlantic flying fish, bottlenose dolphins, and amazing views along the way. My general day consisted of waking up around sunrise, taking part in approximately three to five snorkels, indulging in huge delicious meals in between snorkels, and finally working on my data analysis and studying before getting to bed around midnight. There were nine students, three mentors, two captains, and one chef aboard the vessel, and we all worked in groups on three different research projects.
I worked with two other students from different universities on a reserach project that dealt with comparing parrotfish populations of regions inside of a Marine Protected Area (MPA) and outside of a MPA. The Bahamian government has implemented MPAs throughout the Bahamas, and there currently exists a debate as to if and where these MPAs should be expanded. We engaged in mock town hall meetings representing the major stakeholder groups affected by MPAs such as fisherman, the tourist industry, locals, and conservationists. I learned that there is a lot to take into consideration when making conservation decisions that expand beyond the environmental consequences. Using the data we acquired we attempted to make an informed decision on whether or not to increase the MPA. 
Our trials consisted of 10-minute timed swims over three coral reefs located inside of the Exumas Land and Sea Park and three coral reefs outside of the protected zones. We counted both juvenile and adult individuals of three different large bodied parrotfish species found in that region. Because we were limited to only a few days of data collection and a relatively small sample size, we found that our data wasn't statistically significant. We did learn a significant amount about the difficulties of conducting field research and about the importance of parrotfish in coral reef ecosystems. 
My time in the Bahamas wasn't limited to just marine work. Most days we found ourselves exploring some of the terrestrial environments, such as, intertidal zones, mangrove swamps, and other areas within in the Exumas Land and Sea Park. There was one day in particular during the trip that was completely terrestrial work where we helped Dr. Chuck Knapp's research on the endangered Bahamian rock iguana. Dr. Knapp has been monitoring these populations for approximately 18 years, and we aided in the rigorous activity of catching the iguanas and then collecting basic data and removing parasites from their bodies. This data showed the relationship between humans feeding the iguanas and the transmission rate of parasites among the iguana population. This data allows The Shedd Aquarium to make management recommendations to conserve these species while still allowing tourist to interact with these incredibly unique animals. Running over sharp limestone rock in the baking sun while trying to avoid prickly pear cacti was not an easy task, but it was really gratifying to help Dr. Knapp with his ongoing research project. 
Now, I know you're wondering: did I see any sharks? We were incredibly fortunate to encounter a stunning mature nurse shark, which actually stuck around the boat for nearly an entire day. I also witnessed an endemic mammal of the Exumas known as the hutia, which is a small nocturnal rodent. Another major highlight for me was snorkeling at night and seeing an octopus scurry about the sea grass. The incredibly starry night sky and the bioluminescent algae in the water similarly twinkled in the darkness. At this moment I felt entirely connected to the ocean below and the vast universe above. 
My time in the Bahamas wasn't the tropical vacation most people picture when I tell them I participated in research in the Bahamas. It was even better! Sure, it required a lot of hard work both physically and mentally, but it was one of the most rewarding, beautiful experiences I've had during my undergraduate career. Being able to contribute to research related to MPA's while also having the opportunity to explore the incredible Bahamian environment further affirmed in my mind that I want to devote my life to promoting and engaging in conservation of the magnificent marine world.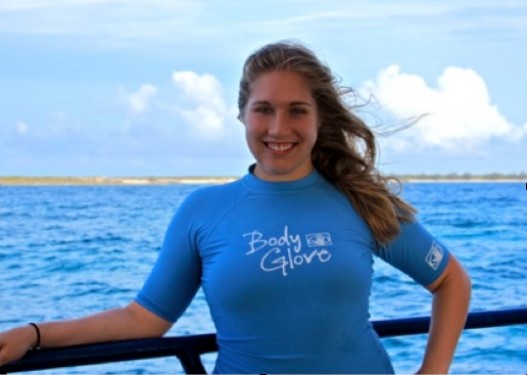 Hilary Wind '14 aboard the R/V Coral Reef II in the Exumas, Bahamas
Note: Eukaryon is published by students at Lake Forest College, who are solely responsible for its content. The views expressed in Eukaryon do not necessarily reflect those of the College. Articles published within Eukaryon should not be cited in bibliographies. Material contained herein should be treated as personal communication and should be cited as such only with the consent of the author.