<div style="background-image:url(/live/image/gid/32/width/1600/height/300/crop/1/41839_V14Cover_Lynch_Artwork.2.rev.1520229233.png)"/>
The Quest in Dental Networking
Kyriaki Ades
Department of Biology
Lake Forest College
Lake Forest, Illinois 60045
Download PDF
Being interested in a pre-health profession can be overwhelming. More specifically, I felt that there were so many different career paths that I could pursue, especially within the field of health care. Fortunately, internships are a way that students can figure out what field they are interested in before they graduate. As for me, my internships helped spark my interest in a field that most people are afraid of– dentistry.
I started my internship with Drs. Costis D.D.S. my sophomore year. This opportunity allowed me to see what dentists do besides cleaning teeth. From the second I walked into the office, I was learning new things, which helped to eliminate any dull moments. I learned how to work the sanitization machines, and quickly learned all of the names of the instruments so I could make trays for procedures. I assisted in procedures such as bonding, root canals, fillings, impressions, X-rays, and, my favorite, extractions. At the office, I was able to observe how dentists interacted with the patients under different circumstances. I was able to interact with both Greek and Spanish speaking patients, which allowed me to apply my foreign language speaking skills. In this way, I related better to patients as I eased their nerves about the procedure that was about to be carried out. On the flip side, the most difficult concept for me to grasp was taking X-rays. I was nervous in taking and developing X-rays as a result of initially losing the first ones I took, which resulted in traumatizing the patient who was Dr. Costis' mom. Thankfully, when I told her what had happened she co-operatively allowed me to retake and develop her new X-rays. To this day, every time I take an X-ray I remember Dr. Costis' mom. After a lot of practice and recognition of angles I am finally proud to say that I can take and properly develop dental X-rays. Furthermore, as I became more experienced with all of these various tasks, I was offered a paid position as a dental assistant.
Assisting at the general dentist office has provided me with the opportunity to network with other dental professionals my senior year. Through these networks I carried out internships with both an orthodontist, Dr. Johnson D.D.S., M.S., and an oral surgeon, Dr. Spina D.D.S., M.D. These internships allowed me to experience different branches of dentistry and tie all of the dental procedures together.
At the orthodontist office, I observed a different office set up than at the general dentist's location. While the orthodontist would float around to the different patients, he mostly relied on the five assistants that worked in his office. At Dr. Johnson's, I learned all about braces and other devices, such as the Herbst appliance, which aligns the upper and lower jaw. I also observed how to apply and remove braces, which helped me learn a lot about wires and the different materials they are composed of. I even improved my impression– making skills that I previously learned at the general dental office. Unlike the general dental office, these patients were mostly children, which helped me realize how much I enjoyed working with them. I found it interesting that orthodontists divide the mouth up differently than general dentists. Orthodontists break it up into four sections, whereas general dentist look at the mouth as a whole. In addition to improving my techniques, I loved learning new ones, such as, putting rubber bands on brackets, which is actually harder than it looks. The first time I applied rubber bands the patient was laughing because the rubber bands were flying all over the office. Overall, I enjoyed working with Dr. Johnson because her office exposed me to a very fast paced work style where there are several dental procedures occurring at once. I feel that I could possibly become an orthodontist in the future because I liked the fast pace of the office, as well as boosting the self-esteem of patients with their new perfect smile.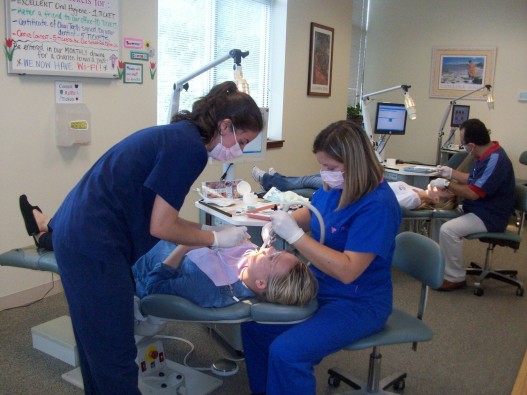 Assisting in Dr. Johnson's office inserting a Herbst appliance
At Dr. Spina's office, the oral surgeon, I observed different stages of implants including extractions, insertion of the post, and osseointegration (implant fusing to the bone). Previously, at Dr. Costis' I was exposed to the final cosmetic step of implants, creating the crown. In addition, I observed different types of tumors such as fibromas (benign tumors) and papilomas (projection-like tumors). One day, while carrying out an oral exam, I specifically observed the way in which Dr. Spina was explaining the procedure to the patient. In these fifteen minutes, Dr. Spina summarized all of the biology I have learned, as well as incorporated knowledge that I will learn. After interning at the oral surgeon and orthodontic offices I am more knowledgeable of dental procedures than I ever could by simply by taking classes.
These internships allowed me to make connections not only in the dental field, but also with the common dental procedures by seeing how the dental professionals collaborate with each other. I feel that all pre-health students should experience at least one internship during their undergraduate career. My internship experiences helped me grow as a person because I had to step out of my comfort zone and relate to people I didn't know while performing a dental procedure that I just learned. Most of the time I made mistakes, but learning from the mistakes and not repeating them is key. The most important lesson that I learned was that at the end of the day I just have to be myself and try my best because that's what the patients want. 
Note: Eukaryon is published by students at Lake Forest College, who are solely responsible for its content. The views expressed in Eukaryon do not necessarily reflect those of the College. Articles published within Eukaryon should not be cited in bibliographies. Material contained herein should be treated as personal communication and should be cited as such only with the consent of the author.