<div style="background-image:url(/live/image/gid/32/width/1600/height/300/crop/1/41839_V14Cover_Lynch_Artwork.2.rev.1520229233.png)"/>
Leicester, Devons, and Bantams…Oh My!
Alexus Urbanik
Departments of Biology
Lake Forest College
Lake Forest, Illinois 60045
Download PDF
It is a hot, humid July morning—temperatures are already in the 80's and it is only 7 a.m. I stride across the pasture in my knee-high rubber boots and nab an ewe to take her temperature. Next, I'm off to do a herd check on 25 heads of cattle before returning to don my 17th century garb in front of the public at a livestock talk. Reflecting back on my time spent at Colonial Williamsburg as a Rare Breeds Intern, I cherish the time I spent with the animals most. By interning at Colonial Williamsburg, I was able to foster a new passion for livestock, while learning about their care and maintenance. Taking care of livestock itself is very rewarding, but having a hand in preserving some of the most rare livestock breeds on earth was a remarkable experience. 
While working with Coach and Livestock, I learned many important skills. I learned how to hitch and unhitch carriage horses, how to flip and shear sheep, how to check for fomacha (a sheep parasite), and how to trim cattle's feet. Having the opportunity to help endangered livestock breeds and learn techniques that are used in veterinary medicine and maintenance of livestock was phenomenal. Gaining exposure to the world of livestock medicine was invaluable to me because of the lack of livestock as well as livestock vets in the suburbs. Thus, gaining experience with livestock was indispensible for my future career goals. This experience, afforded to me by the Groner Foundation, has made me a more rounded veterinary candidate and has set me apart from other applicants who do not have livestock experience. In the words of Daniela Resendiz, Groner Foundation Director, "Internships are an integral part of becoming a well-rounded candidate for graduate schools as well as employment. By having Groner Recipients engage in meaningful internships, the students are able to learn beyond the classroom, learn from professionals in the fields, network and most importantly, the students learn to see the difference they can make within their communities." 
In addition to caring for endangered livestock, I also valued the opportunity to work with and educate the public. Working with the public teaches you patience: you may get asked the same question several times by many different people over the course of a livestock talk or tour, but you still must answer the question each time. This reality is one that has parallels in clinical medicine. As a vet, I will get asked the same type of question many times over, but each time I must be willing to quell the curiosities and fears of the owner for the betterment of the patient. Working with the public was very rewarding, and I enjoyed having the opportunity to get out from behind the scenes. There was nothing like seeing a child smile when I allowed him to touch a lock of freshly sheered fleece, or the amazement a visitor had from seeing a chicken up close. What I found most astonishing while educating visitors about our livestock was how exotic a simple lamb of calf seemed to most people. Unfortunately, in this day and age, people are often not exposed to livestock. Being able to demystify livestock, and send visitors away feeling that they had a better understanding of agrarian life, was extremely gratifying to me.
My experiences working with visitors and animals of Colonial Williamsburg were priceless and have taught me so much. A veterinarian must combine a love for animals with an ability to communicate with owners. This was a skill that I was able to refine during my time at Colonial Williamsburg. I am very grateful that I was afforded this opportunity, and I know that what I learned during those hot Virginia days will surely benefit me in my veterinary endeavors.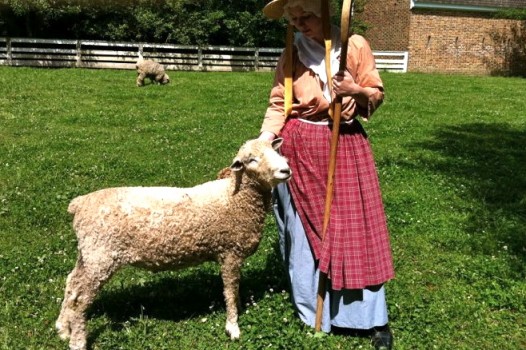 Allie Urbanik '13 poses with a newly sheared Leicester ram.
Note: Eukaryon is published by students at Lake Forest College, who are solely responsible for its content. The views expressed in Eukaryon do not necessarily reflect those of the College. Articles published within Eukaryon should not be cited in bibliographies. Material contained herein should be treated as personal communication and should be cited as such only with the consent of the author.