<div style="background-image:url(/live/image/gid/32/width/1600/height/300/crop/1/41839_V14Cover_Lynch_Artwork.2.rev.1520229233.png)"/>
Kookaburra Sits in an Old Gum Tree While Students Study Below
Nicole Vachter
Departments of Biology and Environmental Studies
Lake Forest College
Download PDF
While studying abroad at Australia's James Cook University, located in Townsville, Queensland, I learned the real reasons for studying abroad. Everyone expects and even assumes that there will be some small amount of cultural learning and adjustment - no matter what your major is - but for me, studying abroad ended up meaning so much more. Yes, there was the fact that I had to get used to things like having Vegemite on toast for brekkie (breakfast), which I am happy to say that I tried - once - or the fact that everyone says "how ya goin" instead of "what's up," and even the fact that the seasons are reversed, but these, for the most part, have become everyday things. For me, the great joy of going abroad was in studying a new ecosystem and habitat that cannot be found in our backyards at Lake Forest.
I was fortunate enough to be able to travel to two very different habitats over my lecture recess (spring break). The first part of the recess was spent with my Rainforest Populations and Communities class up in the Mount Spec National Forest around Paluma, Queensland. We were in the location to look at and practice different ways of sampling forest populations. In practicing setting up and using mist netting, keying out reptile species, radio tracking, using Elliot traps, using funnel traps, using cage traps, spotlighting, and frogging, the lecturers gave us a chance to open our minds to new interests and start to practice skills that we will be using in our future careers. We did all of this while seeing and interacting with some native species (Long-Nosed Bandicoot and Greater Gliders) and some introduced species (Cane Toads).
The other half of my recess involved traveling north to the Orpheus Island Research Station with my Coral Reef Ecology class to fine tune our reef survey and "duck- diving" skills as well as our coral identification skills. In running actual exercises out on the reef on zonation, competition, and coral morphology at not only different areas of the reef but at different tidal levels, we not only were able to practice writing in the water while working on a transect but were also able to experience firsthand what the day-to-day life of a marine biologist is like in the field. Of course seeing some of Australia's marine fauna species in the wild, such as Green Sea Turtles, Black Tip Reef Sharks and Lionfish, only added to the pleasure of being tossed about by the surf.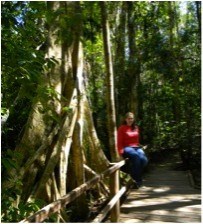 Nicole Vachter `13 sits in the rainforests near Paluma while on a trip for her course, Biodiversity of Tropical Australia
 By taking these courses and others while abroad, my mind has been opened to new ideas and opportunities that I never would have looked into and explored. This experience has also introduced me to new friends from the United States and around the world.