<div style="background-image:url(/live/image/gid/32/width/1600/height/300/crop/1/41839_V14Cover_Lynch_Artwork.2.rev.1520229233.png)"/>
How to Modify Your Brain to Become a Kiwi: Reflections of a Pseudo-Kiwi Neuroscience Major on a Semester Spent in Aotearoa
Natalie Kukulka
Department of Neuroscience
Lake Forest College
Download PDF
Aotearoa, the Land of a Long White Cloud, also known as New Zealand, is one of the most magnificent places on Earth, yet it is nowhere near being the most common study abroad destination for college students. Nevertheless, thanks to the Department of Off-Campus Study at Lake Forest College's collaboration with IES and their inestimable efforts to establish the program, this marvelous land from the Lord of the Rings became my study abroad target for the fall semester of 2011. Although being a science major creates the improbability of going anywhere abroad, with good planning and determination, it most certainly is possible. Thus, as a third-year student with a declared neuroscience major, a studio art minor, and a biology minor, I became one of the first Lake Forest College students and first neuroscience major students to study abroad in the mesmerizing country of New Zealand.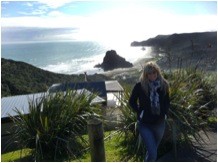 Natalie Kukulka '13 standing in the middle of winter in Pihia in front of one of the North Island's black sanded beaches. 
While the initial research and understanding of the country you will enter is highly recommended, there is nothing in any media source that can fully prepare you for a life changing experience. For example, I was aware of the fact that rugby is a huge sport in New Zealand, yet I now know that that is false: rugby is this nation's religion, and the All Blacks are its heroes. Haka, a native celebratory dance, initially seemed bizarre and almost uncivilized, and now I know nearly all of its movements. The act of touching noses as a greeting was unheard of to me, but now I am able to behave appropriately on a marae, a Maori person's land. Thus, throughout the semester there was a lot of neural rewiring that took place, but initially I started out with simple things, such as walking on the "right" side of the sidewalk and understanding the Kiwi accent.
As a student from Lake Forest College, I was matched to a lovely homestay family in the Mt. Albert subdivision, named by its nearby (now inactive) volcano, and attended the University of Auckland, which is situated in the center of Auckland. Compared to the small size of Lake Forest College's classes and its campus, I was excited to study at a much bigger school. Surprisingly, I was quickly overwhelmed by the Auckland University's lecture rooms, holding a few hundred students each, and its enormous campus, encompassing 40,000 students. Simply put, I will never take for granted small classes. Still, the University of Auckland is annually ranked in the top 200 universities in the world, and it is New Zealand's largest and leading research-intensive university, composed of the largest share of A-rated researchers in the country. 
As a science-focused student, this institution seemed like an ideal place for me to grow academically and possibly become involved in some research. During my semester, I completed four classes: Animal Behavior, Cognitive Science, Art and Photography, and Culture and History of New Zealand, a class designed by Lake Forest College. In both of my science classes I had four professors, each of whom was an expert in the topic of their specialization. This educational approach was very stimulating because each professor was passionate about his section of the course and often weaved in his own research findings, which made the studied material very current. For example, in the Animal Behavior course, we explored the ecological, evolutionary, and behavioral patterns in the animal kingdom through concepts such as navigation, chronobiology, neural and physiological mechanisms of behavior, and mating systems within variously socially constructed communities. In fact, I was so fascinated by the chronobiological perspective that I interned in Dr. Guy Warman's laboratory and aided him in his research on the effects of anesthesia in bees and their consequences on circadian rhythm. Meanwhile, I also had the opportunity to study black-winged stilts during a three-day field trip to Miranda and to acquire statistically significant results based on my hypothesis, as well as take part in the first undergraduate study in the world that involved the use of GPS dataloggers on pigeons. In my course on cognitive science, I was lectured by experts in the fields of sound and auditory system; perception, cognition and motor control; attention and memory; and object identification. In either science class, we never used textbooks, thus most of our learning was based on presentations, laboratories, individual notes and additional research materials that we had to read. Aside from also fully enjoying my other two classes, I interned at AgResearch Structural Biology Laboratory. There, Dr. Shaun Lott and his team aim to determine the atomic structure of the COMMD protein family, which is thought to be involved in carcinogenesis and tumor progression, in order to understand its functions. I had the opportunity to work with a thesis student and aid in conducting various experiments to attempt to establish the structure of the COMMD-1 protein.
Overall, I found all of my classes and the internship opportunities very academically stimulating and engaging. Nevertheless, the study abroad experience is not all about academics, and during my semester I also became a huge rugby fanatic and watched every game of the Rugby World Cup, which was held and ultimately won by New Zealand! Additionally, I became the 'big sister' of two young girls in my host family, made unforgettable memories, and created friendships with people from around the world. After a completed semester, I then travelled across the entire North and South island for a month, which is when I saw how spectacular New Zealand is and did all the extreme activities like white water rafting off of a 7m tall waterfall, bungee jumping, and sky diving or just jumping off 18 waterfalls during cannoning. (Such activities also took some heavy neural rewiring since I always believed I would never attempt any of them).
So how can you begin to rewire your brain and become a Kiwi, or a 'New Zealander'? Here are a few things: become a rugby fanatic; glorify the All Blacks (and meanwhile hate the Australian Rugby team); perform the Haka on the street anytime, any day; say 'sweet as' instead of 'cool'; shout 'mean' instead of 'awesome'; use 'bro' instead of 'dude'; eat chips but never fries; and embrace these few changes as though they are completely natural. From a neuroscience perspective, the difficulty of simple changes and the ease of adopting new habits that accounted for some of my brain's neural rewiring was quite fascinating. And from a biological perspective, the flora and fauna that I have witnessed seemed magical due to their beauty and complexity.  For anyone who has ever had an inkling of wanting to study abroad, I say, go for it bro because it's sweet as and you will only grow from such an experience both academically and personally.