<div style="background-image:url(/live/image/gid/32/width/1600/height/300/crop/1/41839_V14Cover_Lynch_Artwork.2.rev.1520229233.png)"/>
ACM Schools: Fostering Student Inquiry
Shabana Yusufishaq
Departments of Biology and Education
Lake Forest College
Download PDF
We sat ourselves on chairs, forming a circle. Slowly, the uncomfortable silence in the room went away. Everyone in the circle had something to say. "Research fosters new, unique ideas," one student said. "It allows us to learn how to learn," a faculty member added. One of my favorite remarks of our afternoon summed-up the essence of the conversation, "Learn, love, and apply." 
Maya Beckles '13, Alina Konnikova '11, Professors Shubhik DebBurman, Holly Swyers, and I were at the "Models for Undergraduate Research Workshop" held in Chicago on April 2-3, 2011. The Associated Colleges of Midwest (ACM) sponsored the event. Nearly all fourteen of the schools that make up the conglomerate of ACM schools were in attendance. This workshop allowed students and professors to come together and discuss what each school does to provide research opportunities for its students. Usually workshops that discuss classroom curriculum and structure involve meetings between deans and principals of schools. Here, however, there was a different atmosphere, with enriching dialogues between the students and professors that added unique perspectives on experiences, feelings, and ideas on undergraduate research. The thoughts shared by the participants of this workshop can be divided into the following two categories: 1) resources ACM schools provide their students, and 2) the outcomes of student research.
Representatives from the different schools shared approaches they take to develop research interest in their students. Colorado College, for example, spoke about courses that students take to develop basic research skills in their discipline. Lake Forest College, too, expects students to take methods courses in their subject area. For example, psychology students take Psychology 221 and 222: Research Methods and Statistics, I & II, respectively. As another example, the Sociology/Anthropology department expects students to take SOAN 320: Social Research: Qualitative Methods. Many other schools referred to facilities where they provide students with lists of research options and guide the students to decide what option might be right for them. At Lake Forest College, departmental faculty provides this guidance, and course offerings, such as Biology 384: Plant Biology, provide students with sample research ideas. This course partners with the Chicago Botanical Gardens to allow students to explore plant research. The strong commitment ACM schools have to providing research opportunities to students was clear to everyone at the end of this two-day workshop. Even more noteworthy is what students gain from their research experiences.
Research opportunities at these schools not only allow students to gain a wealth of knowledge for classroom practice but also allow students to become critical thinkers in society. This is made possible by schools like Cornell College that emphasize the importance of an interdisciplinary approach through cross-discipline collaboration. Similarly, Macalester College has a civic engagement component as part of the basis of its courses. Both of the schools' approaches teach students to take information from different subject areas and synthesize conclusions. This is a wonderful opportunity for students because real-life problems are not disjointed; we are called on to take everything we know and apply the information. The most notable overlap between many of the schools is that they allow students to display their work to professors and peers in other departments. Lake Forest College does this by hosting an annual symposium. The 2011-2012 school year will mark the 14th Steven Galovich Memorial Student Symposium.
Overall, we were all reminded of the importance of promoting independent thinking. This way, students not only discover new ideas but realize that they are able to use the tools to overcome obstacles throughout their lives. All the schools that make up ACM have the same underlying goals, but, in some cases, take different approaches to fulfill these goals. Still, the differences are what inspired the workshop, as they provided everyone with an opportunity to learn from this variety. Furthermore, the workshop stayed true to the value of including both professors and students in the dialogue. To reiterate the words of one the participants, ACM schools want their students to develop skills to learn cross-discipline content, love what they are learning, and use what they know to create a better tomorrow.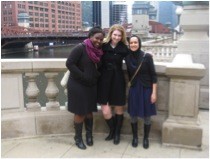 Maya Beckles '13, Alina Konnikova '11, and Shabana Yusufishaq '12. Each of us has been involved with research and knows that the skills we have learned will transfer to our career goals.