<div style="background-image:url(/live/image/gid/198/width/1600/height/300/crop/1/50546_Middle_South_drone1.rev.1554236092.jpg)"/>
Baade co-wrote chapter in short-listed anthology on football
A book on football that features a chapter co-written by the Ernest A. Johnson Professor of Economics Robert Baade was shortlisted for a North American Society for Sports History prize.
Baade and his co-author, College of the Holy Cross Professor of Economics Victor Matheson, wrote Chapter 11, "The Economics of American College and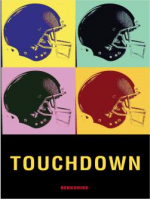 Professional Football," in Touchdown: An American Obsession.
The anthology of scholarly papers is a comprehensive guide to the history and culture of the sport, covering US college football as well as professional football worldwide. It was published in 2019 by Berkshire Publishing.
The North American Society for Sports History (NASSH) presents two book awards each year to promote and honor outstanding research and writing in the field of sport history. Touchdown: An American Obsession was shortlisted in the edited collections of scholarly papers category.
Baade is an internationally renowned economist whose areas of study include the economics of sports, international trade, and international finance.