<div style="background-image:url(/live/image/gid/198/width/1600/height/300/crop/1/50546_Middle_South_drone1.rev.1554236092.jpg)"/>
View virtual poster exhibit commemorating Holocaust Remembrance Day
The posters Cailyn Coskran '20 designed for Yom HaShoah, or Holocaust Remembrance Day, on April 21 will have a virtual audience instead of a campus showing to spread awareness about the Holocaust and victims of oppression.
"Now, more than ever, we need to remember past oppressions to drive us to fight against current oppression," Coskran said via email from her home in Minnesota. "Remembering is not just about grieving for those lost lives, it's about prevention. We remember the oppression of the Jews and other victims, in order to fight for those who are oppressed currently. When we say never again, we mean never again."
As time passes and people are becoming further and further removed from the Holocaust, there are consequences, Coskran said. "Many people I have talked to didn't even know that Holocaust Remembrance Day was an international memorial day. That is a huge problem. I made these posters to remind the Lake Forest campus of Holocaust Remembrance Day and to encourage reflection of the Holocaust."
Reflection is needed for many reasons, she said. "For my parents generation, my generation, and for younger generations, the gravity of what happened has been lost," she said. "We learn about the Holocaust briefly in school, but to many it's still just a story. We can't visualize exactly how many lives were lost, and the lasting impact of that loss, and how it affects the world today."
To help others visualize the impact of the Holocaust, Coskran shares this fact: "If we had one minute of silence for every Jewish victim of the Holocaust, we would be silent for 11.5 years. And that is just for the JEWISH victims. Think of how many brilliant minds and world-changing-people we lost because they were deemed not good enough."
Coskran designed three posters—Never Forget, We Remember, Never Again—to be displayed in sequence. In Never Forget, the first in the series, Coskran recalls the six million Jews and others murdered in the Holocaust: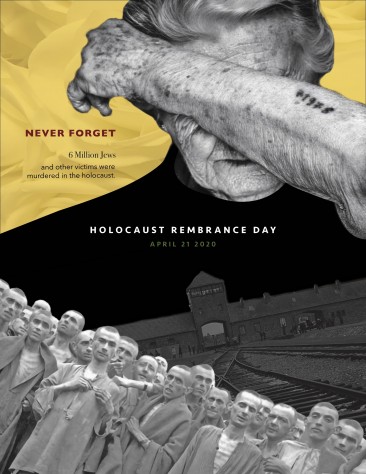 The second poster, We Remember, depicts Sophie Scholl, a 21-year-old college student executed for her anti-Nazi activism: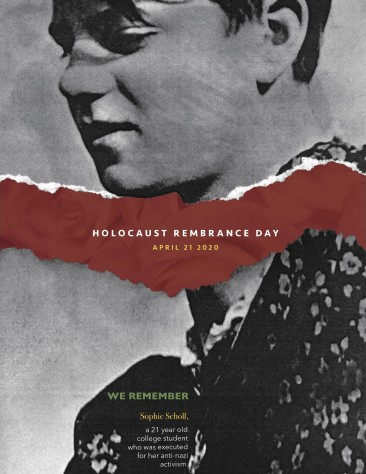 The third and final poster, Never Again, depicts the detainment of Uyghur Muslims in China today: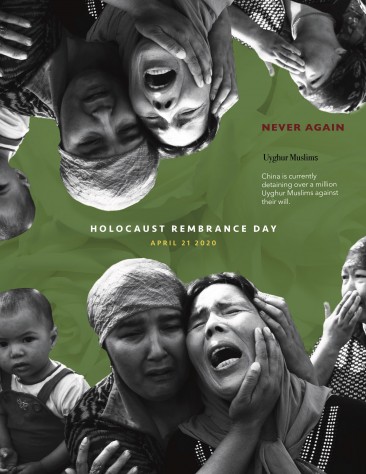 "Disasters like COVID-19 show us who in our society is disadvantaged and where we need to focus our resources," Coskran said. "If you are able, fight for those who have less resources than you, and remember to spread kindness."
Coskran's posters were created for Margaret Coleman's Art 492: Creative Project Advanced Graphic Design class.