<div style="background-image:url(/live/image/gid/198/width/1600/height/300/crop/1/50546_Middle_South_drone1.rev.1554236092.jpg)"/>
John LaPonte '20 lands job with company working on COVID-19 vaccine
Physics and math double-major John LaPonte '20 landed a job weeks before graduation with a Chicago-area company that is developing automation machinery for the COVID-19 vaccine.
LaPonte will work as a control engineer in the electrical engineering department at R&D Custom Automation, which builds high-speed custom automation machinery for the pharmaceutical industry. Currently, R&D is developing machinery that will coat and package vials for the COVID-19 vaccine, which is expected to hit clinical trials in August.
A two-time Forester football captain and three-time all-Conference athlete, LaPonte credits his hands-on experience and the College's alumni network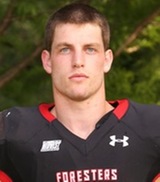 with helping him land a meaningful job in his chosen field prior to graduation.
"My physics courses and labs helped me develop skills and techniques, and my math and physics courses helped me develop critical-thinking and problem-solving skills," he said. LaPonte used what he learned in class while working with his physics professors in their research lab the summer before his senior year.
"I researched electromagnetically induced transparency with Professor and Chair of Physics Michael Kash and Associate Professor of Physics Nathan Mueggenburg," LaPont said. "They were amazing at preparing me for my career. They were always available to help and answer questions and they both created very useful lab work."
LaPonte learned about manufacturing job options open to physics majors through physics alumnus Steve Roth '76, who came to campus to talk about career paths in manufacturing and took physics students on tours of several plants in the Chicago area that his company, Revere Electric Supply, works with.
"The things students study in physics are the building blocks of manufacturing," said Roth. "There are a couple thousand manufacturing-related companies between Chicago, the suburbs, and southern Wisconsin. If you consider that every machine today is run by a computer, that's thousands of jobs near Lake Forest College alone."
Roth said he is working with the physics department to show students their career options as a way "to give back" to the College and the professors who prepared him for a successful career in the manufacturing industry.