<div style="background-image:url(/live/image/gid/32/width/1600/height/300/crop/1/41839_V14Cover_Lynch_Artwork.2.rev.1520229233.png)"/>
Australia's Hellish Wildfires: A Climate Change Consequence
Sarah Stauber
Lake Forest College
Lake Forest, Illinois 60045

              Between 2010 and 2019, the world witnessed the hottest decade on record. In 2019, while very few places saw general cooling trends, including North America (Fountain & Popovich, 2020), the majority of the world experienced significantly higher temperatures (Figure 1). Some of the places that felt the greatest warming include Russia, Europe, southwest Africa, southeast Asia, and Australia. And rising global temperatures are merely one consequence of human behavior; in terms of atmospheric CO2 levels, the Earth has seen levels fluctuate over the last 400,000 years, up until the last century, during which time they have virtually skyrocketed (Figure 2). And there is a clear correlation that can be drawn between recorded human production of CO2 and these trends in rising temperatures that we have experienced in the last century. Figure 3 depicts carbon dioxide production by fuel source and region. Since records began in 1850, human production of CO2 has continued to increase, along with average global temperatures (National Climate Assessment, 2014).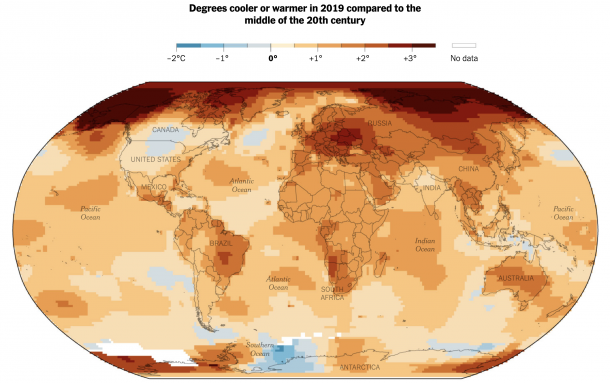 Figure 1: Baseline is derived from average temperatures between 1951 - 1980 (Fountain & Popovich, 2020).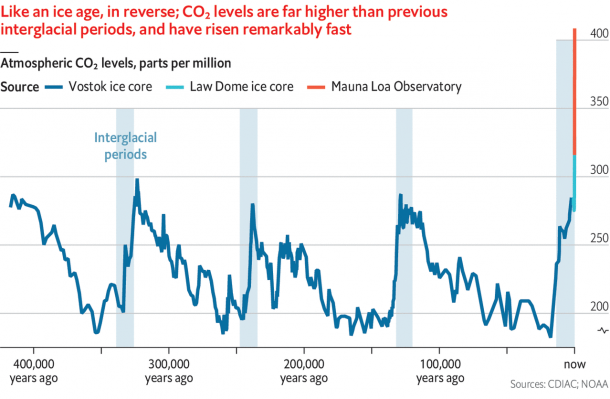 Figure 2: Ice core sample records of historic atmospheric CO2 levels (The Economist, 2019).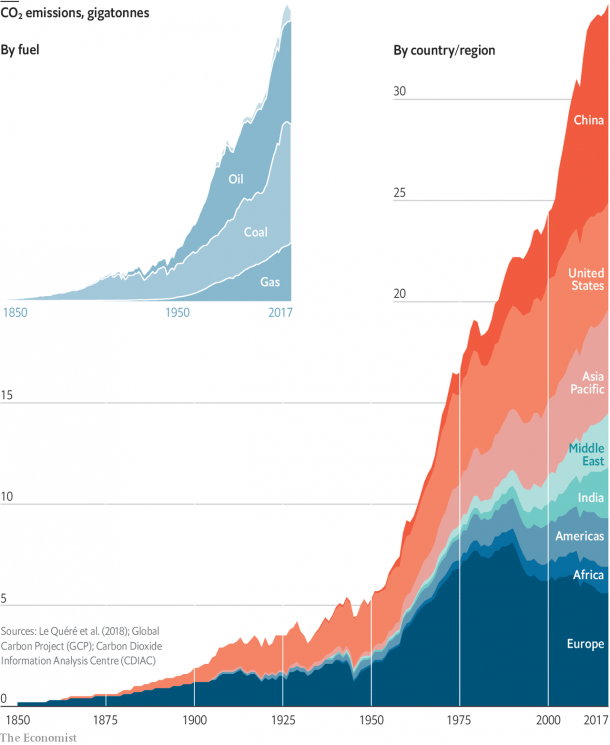 Figure 3: CO2 production in gigatons by fuel source and region/country (The Economist, 2019).
Along with other regions, Australia saw their hottest and driest season on record in 2019, with temperatures above 110 degrees Fahrenheit (45°C). Combined with the Indian Ocean Dipole being in a positive phase (in which warm moist air is pulled from Australia towards Africa), and the negative Southern Annular Mode (pushing dry air from Antarctica into Australia), the continent-island is in the midst of a perfect storm for historic wildfires. As a result, one of the world's largest coal producers (Bradsher & Kwai, 2020) is now seeing their "worst fire seasons on record." According to some, breathing the air in Sydney is like smoking 37 cigarettes [daily] (Irfan, 2020). With the bush fires yet to ease, and homes still burning, this fire season is only expected to worsen before it gets better. 
References
Bradsher, K., & Kwai, I. (2020, January 13). Australia's Fires Test Its Winning Growth Formula. New York Times. Retrieved from https://www.nytimes.com/2020/01/13/business/australia-economy-wildfires.html
Fountain, H., & Popovich, N. (2020, January 15). 2019 Was the Second-Hottest Year Ever, Closing Out the Warmest Decade. New York Times. Retrieved from https://www.nytimes.com/interactive/2020/01/15/climate/hottest-year-2019.html
Irfan, U. (2020, January 6). Australia's hellish heat wave and wildfires, explained. Vox. Retrieved from https://www.vox.com/2019/12/30/21039298/40-celsius-australia-fires-2019-heatwave-climate-change
National Climate Assessment. (2014). Our Changing Climate. Retrieved from https://nca2014.globalchange.gov/highlights/report-findings/our-changing-climate
The Economist. (2019, September 21). The past, present and future of climate change. The Economist. Retrieved January 19, 2020, from https://www.economist.com/briefing/2019/09/21/the-past-present-and-future-of-climate-change