<div style="background-image:url(/live/image/gid/198/width/1600/height/300/crop/1/50546_Middle_South_drone1.rev.1554236092.jpg)"/>
Rebecca Graff gives talk at Milwaukee art museum
Associate Professor of Anthropology Rebecca Graff gave a talk at the Museum of Wisconsin Art in honor of Milwaukee-born artist Carl von Marr during an annual celebration of his work.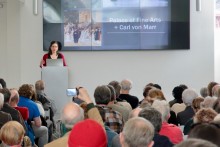 Graff was invited by the Museum of Wisconsin Art (MOWA) to give a talk on the 1893 World's Fair, in which two of Marr's pieces were showcased, as well as her research into the literal garbage of the time as part of her archaeological studies. 
These studies, which Graff has turned into a book to be released in August 2020, dives into the trash left behind to inform our own knowledge of people and society of the nineteenth century.
Click here for more information on Graff's upcoming book.
—Peter DiPietro '20