<div style="background-image:url(/live/image/gid/59/width/1600/height/300/crop/1/29922_neuroscience_brains_header_2.rev.1450299792.png)"/>
2020 Chicago Brain Bee Champion announced at Lake Forest College
More than 50 students from 21 high schools in the greater Chicago area competed in the 2020 Chicago Brain Bee that took place on February 8 at Lake Forest College.
The day-long event this Saturday, February 8, presented the 55 high school students with the opportunity to interact with current Lake Forest students and understand their research and tour the new Lillard Science Center.
Later in the day, the top 11 finalists took the stage and competed for their chance at winning the title of 2020 Chicago Brain Bee recipient. This year's bee was thrilling to watch and the participants demonstrated high levels of mastery of brain facts.
This marked the fourth year that the College's chapter of Nu Rho Psi, a national neuroscience honor society, planned the event.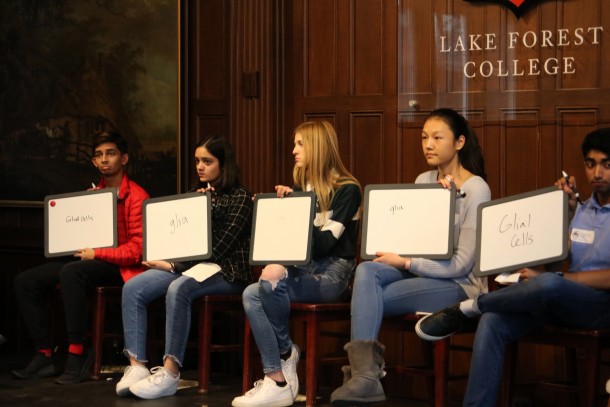 Disque D. and Carol Gram Deane Professor of Biological Sciences Shubhik DebBurman spoke highly of Danielle Berninzoni '20 and Lauren Giurini '20, co-Presidents of the Lake Forest College chapter of Nu Rho Psi, whose organization prepared for the Brain Bee for months. "An exceptional level of student leadership was portrayed," DebBurman said. "They went beyond what academic honor societies typically do nationally. They have created an easy to adapt-and-implement template for neuroscience student organizations anywhere to start new brain bees."  

"The Brain Bee required lots of planning and organization but most notably, volunteers," Giurini said. "But in the end we could not have put forward such a well organized event if it were not for the entire organization of Nu Rho Psi, and other students and faculty in all of our science departments."
"Seeing high school students with such a strong interest and capacity for science really makes it worth it," Giurini added. "It is inspiring to think that these kids study so hard for the Brain Bee while they are probably taking very rigorous high school courses at the same time."  
 The 2020 Chicago Brain Bee winners were as follows:  
First place: Monika Narain, Illinois Math and Science Academy

 

Second place: Courtney Redey, Neuqua Valley High School
Third place: Shrusti Jain, Adlai Stevenson High School
"This is actually my second time participating in the Brain Bee," Narain said upon winning the competition. "The experience is always so much fun and I am super excited to be representing Chicago at the USA Bee in March."
The Top 11 Finalists represent eight high schools from the greater Chicago area.

Likhita Aluru, Northside College Prep HS
Sisy Chen, Walter Peyton College Prep HS
Camille Grant, Oak Park and River Forest HS
Shrusti Jain, Adlai Stevenson HS
Jui Khankari, Hinsdale Central HS
Krishnachandra Nair, Illinois Math and Science Academy 
Monika Narain, Illinois Math and Science Academy 
Ahana Narayanan, Illinois Math and Science Academy
Courtney Redey, Neuqua Valley HS
Krish Shah, Adlai Stevenson HS
Eric Wang, Naperville North HS 
Meet the 2020 Chicago Brain Bee Champion, Monika Narain
This annual bee is sponsored by the Society for Neuroscience (Chicago Chapter) to test and recognize high school students about their knowledge of neuroscience. The winner of the Bee represents the greater Chicago area at the 2020 USA Brain Bee to be held March 27-29 (2020) in Ohio. The USA Brain Bee heads to the 2020 World Brain Bee to be held this year in Washington DC in April 25-29 (2020).