<div style="background-image:url(/live/image/gid/198/width/1600/height/300/crop/1/50546_Middle_South_drone1.rev.1554236092.jpg)"/>
Alumni in Action
The 2019 Speed Networking, hosted by the Career Advancement Center, provided students an invaluable opportunity to make connections with almost 100 professionals, including many alums from across the College's Career Pathway communities.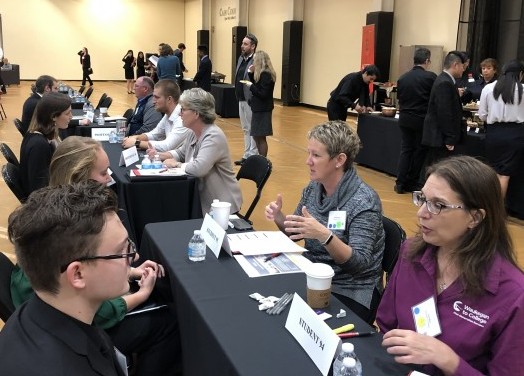 This past month, the College held two outstanding events bringing alumni and students together. 
See more from the successful event here.
In addition to Speed Networking, the College also hosted the annual All-Access Mixer in downtown Chicago. In the Loop students, College alumni, and other local professionals celebrated "The Professional Power of the Liberal Arts: From Campus to Chicago." Alumni from each of the Career Pathways spoke to how a liberal arts education has given them a competitive edge in their careers, and attendees connected through mingling, networking, and celebration. Click here to see the success of this great event!