<div style="background-image:url(/live/image/gid/198/width/1600/height/300/crop/1/50546_Middle_South_drone1.rev.1554236092.jpg)"/>
Rebecca Graff leads talk on excavation of Chicago World's Fair
Associate Professor of Anthropology Rebecca Graff attracted much attention for her discussion of the excavation of the 1893 Chicago World's Fair.
WTTW listed her talk at the Glessner House as one of the "10 Things to Do This Weekend: Oct. 10-13." Check out WTTW's #6 recommendation here.
Graff's presentation drew from her upcoming book, Disposing of Modernity: The Archaeology of Garbage and Consumerism During Chicago's 1893 World's Fair, due out in 2020 with the University Press of Florida and the Society for Historical Archaeology.
During her talk,"The Vanishing City: Excavating the Chicago World's Fair of 1893," Graff shed light on the 1893 World's Columbian Exposition and its lasting effects on the city of Chicago and American culture as a whole. Although this excavation only lasted about six months before the structures disappeared, Graff's research focused on the Fair's "White City" architecture and the Midway Plaisance.
According to the event summary, "Graff's work links the Fair, as a catalyst for structural change and its material record, to the larger social structures of late nineteenth century America." One unique finding from Graff's excavation has revealed some delicate plaster remains of the Fair's Ohio State Building. 
—Sangjun Hornewer '20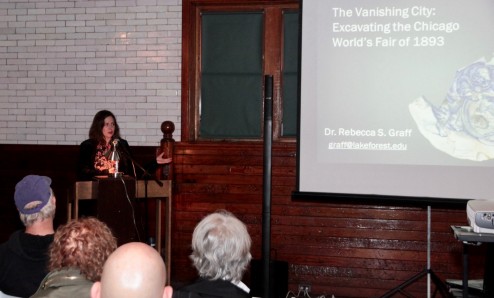 Rebecca Graff"s Glessner House talk was listed on WTTW's coveted "10 Things to Do" list. —Ryan J. Cook