<div style="background-image:url(/live/image/gid/198/width/1600/height/300/crop/1/50546_Middle_South_drone1.rev.1554236092.jpg)"/>
Faculty member you should know: Margot Schwalbe
Interested in biology at an early age, Margot Schwalbe joined the biology department at Lake Forest College to share her passion for the inner workings of animal physiology and behavior.
Raised in Northern Wisconsin, Schwalbe started her journey into the field of biology early when fishing sparked her interests in the ways animals work and behave. Turning that interest into a career, Schwalbe earned her BS and MS in biology at the University of Minnesota Duluth and later her PhD in biological sciences at the University of Rhode Island.
An assistant professor of biology, who teaches organismal biology and animal physiology, Schwalbe is a faculty member you should know:
Q: What is your area of expertise and how does that apply to your research?
A: I study how fish swim and how they sense their environment. All fish have a sensory system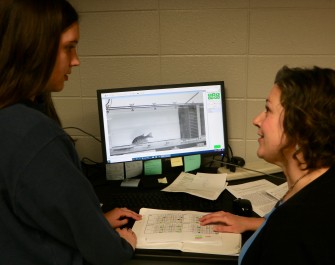 Margot Schwalbe offers students research opportunities in her lab. —Ian Blank '20called the lateral line system, which is how fish sense water flow around their bodies. There are receptors of this sensory system all over the fish's body, from head to tail. One tool I use is fluorescent staining to visualize the lateral line system on a fish. The receptors take in the dye, and then I put the fish under a microscope to see the fluorescence. The receptors glow bright yellow and you can actually see the distribution of lateral line system, right there under the microscope.
Q: How do you feel a liberal arts education benefits a science major?
A: I value a liberal arts education, because it gives you different experiences you wouldn't have in a big state school, for example. You get to know your professors, you get a different breadth of knowledge, and it is so much more writing intensive. The experiences we offer here, I think, really set students apart and prepare them for graduate or professional school or whatever career that they are pursuing.
Q: How does the new science building improve your teaching?
A: It's a brand new, beautiful building. The Lillard Science Center is designed for what the needs are for students, faculty, and their research. Modern things like Wi-Fi everywhere—there are no dead spots—it's a simple thing, but it matters. The classrooms are great, the furniture moves so you can facilitate discussions really well and there are projectors and computers in every classroom. Also having the biology, biochemistry and molecular biology, chemistry, environmental studies, physics, and psychology departments in the same building is important. I've been able to easily meet other faculty and see them at work in their labs with their students. 
Q: How does Chicago being so close offer interesting educational opportunities?             
A: Being so close, I've already taken my organismal biology, animal physiology and senior seminar students to the Shedd Aquarium and to the Field Museum. Just being a train ride away from Chicago is really convenient. I like that we're close to a major city and what that has to offer, but tucked away in this nice little community of Lake Forest.
Q: What is your favorite spot on campus?
A: I like the McClure Rain Garden located between the library and the science building, which had all these tadpoles and an abundance of wildlife. I walked down there every couple of days over the summer to see how the frogs were changing and to look at all the flowers and different insects around. I think that's really neat to have nature in the middle of campus.
—Peter Dipietro '20