<div style="background-image:url(/live/image/gid/95/width/1600/height/300/crop/1/42360_HOMECOMING_darker.rev.1523377981.jpg)"/>
Communications and Marketing
Chloe Johnston, alums discuss her new book
Professional theater alumni joined Associate Professor of Theater Chloe Johnston as she discussed her book, Ensemble-Made Chicago: A Guide to Devised Theater, during a public talk on campus.
Mariana Green '14 attended the talk in person while Ali Hoefnagel '08 Skyped in. Heavily featured in the book, both shared stories from their time at the College, and how it shaped their careers. Hoefnagel's show, You Can Call Me Al, was recently staged in Pittsburgh, while Green co-founded FEMalinin, a Chicago performance group.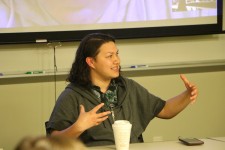 Mariana Green '14
Sponsored by Digital Chicago and Donnelly and Lee Library, the talk took place on February 26, and was attended by a combination of faculty, students, staff, and alumni.
"I found the talk very empowering. It showed the reality of the acting market and how it can be a force to reinforce diversity. Many racial, LGBTQ+, and gender identities are being exposed freely to show a different perspective," said Luis Mario '21, who is majoring in environmental studies and considering a self-designed second major in linguistics. 
"The talk was a great way to learn about Chloe Johnston's amazing new book and some of the wonderful, unique theater experiences to be had in Chicago," said Reference Librarian Kimberly Hazlett, who organized the event. "It was also really interesting to hear from Mariana and Ali about what they are doing now as alums and about the positive impact the theater department at Lake Forest College has on students through courses, shows, and internships."
During the talk, attendees participated in an exercise from the book, followed by Johnston and the alumni sharing their knowledge of the theater scene. 
Cheryl Lynn Bruce, a Chicago-based actress described the book as, "A visionary theatrical's cookbook. It bristles with hard-won wisdoms and ways of Chicago-based alchemists who fashion stageworks through collaboration. Chloe and Coya's roster of performance artists reveal how they create compelling theatre that's sometimes messy, often soul stirring, and always rings with authenticity. This books carries a charge, and will, surely spark and epiphany or two in the rookie and the vet." 
—Alaia Singh '21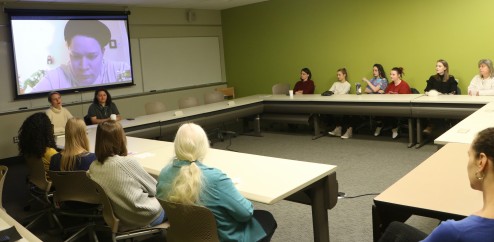 Associate Professor Chloe Johnston engaging with students, faculty, and alumni—one via Skype—during a recent book talk.