<div style="background-image:url(/live/image/gid/95/width/1600/height/300/crop/1/42360_HOMECOMING_darker.rev.1523377981.jpg)"/>
Communications and Marketing
AMA volunteers at Feed My Starving Children
04/07/2014
The American Marketing Association sponsored a volunteer day at Feed My Starving Children, a nearby non-profit Christian organization committed to feeding malnourished children in 70 countries around the world.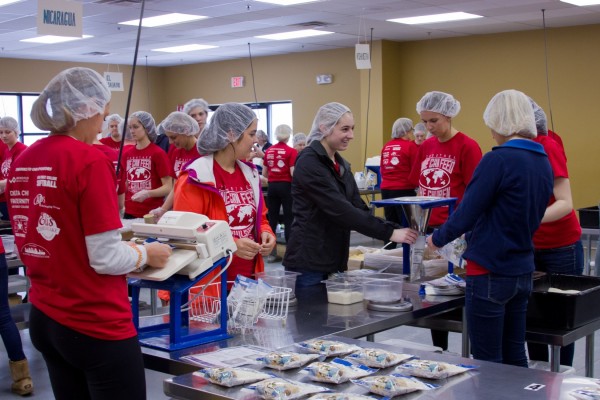 Photo By Hilary Wind '14
Photo Galleries
Daniel Gilbert, a Harvard psychologist, author of the international best-seller Stumbling on Happiness, and host of the PBS television series This Emotional Life, delivered the 2018 Oppenheimer Lecture on Thursday, October 11.

Cheering Forester fans filled the stands Saturday afternoon for the football game, and they weren't disappointed. The Foresters beat visiting Cornell College 42-0.

Forester Fan Fest featured food-truck-style eats and a complete Forester celebration, including music, a kids' zone, student and alumni tables, and great fun!

Football parents, family, and friends gathered for the traditional parent group tailgating gathering before heading over to Farwell Field to watch the Homecoming game.

The Homecoming 2018 Parade stepped off from North Campus promptly at 11:30 a.m. on Saturday on a crisp but sunny morning. Student groups and alumni marched south on Sheridan Road to Fan Fest, which was set up in the Sports and Recreation Center parking lot—a fitting kick off to the day's celebration.