<div style="background-image:url(/live/image/gid/22/width/1600/height/300/crop/1/42259_header.rev.1522425160.png)"/>
<div style="background-image:url(/live/image/gid/22/width/1600/height/300/crop/1/29644_chicago_museums.rev.1451945214.jpg)"/>
<div style="background-image:url(/live/image/gid/22/width/1600/height/300/crop/1/29881_header-skylinecropped.rev.1522426309.png)"/>
<div style="background-image:url(/live/image/gid/22/width/1600/height/300/crop/1/42260_header4.rev.1522425797.png)"/>
<div style="background-image:url(/live/image/gid/22/width/1600/height/300/crop/1/29870_header-museum.rev.1522770032.png)"/>
<div style="background-image:url(/live/image/gid/22/width/1600/height/300/crop/1/42258_header2.rev.1522425093.png)"/>
<div style="background-image:url(/live/image/gid/22/width/1600/height/300/crop/1/29646_internshipcropped2.rev.1451945094.jpg)"/>
<div style="background-image:url(/live/image/gid/22/width/1600/height/300/crop/1/29643__train.rev.1450734095.jpg)"/>
Windy City in Motion: Movies + Travel in Chicago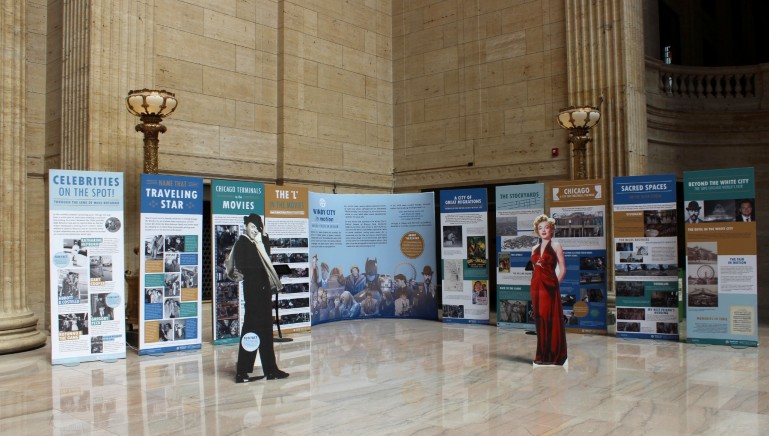 Credit: DePaul University
A collaboration between Lake Forest College's Digital Chicago: Unearthing History and Culture, and DePaul University's Chaddick Institute for Metropolitan Development, "Windy City in Motion: Movies & Travel in Chicago" debuts at the Great Hall at Union Station August 17, 2016. Viewers can travel through classic and contemporary films set in the Windy City and its transportation hubs. Take in vintage photos of movie stars, clips and commentary on films, and little-known facts about Chicago's movie and transportation history. 
The exhibit is free and open to the public, and will be on display at least through the early winter season. 
Opening Reception
Lake Forest College and DePaul University celebrate the opening of Windy City in Motion with a reception at Union Station. Light refreshments will be served and hard refreshments will be available (if of age) at the bar in Union Station.  Faculty and staff from both institutions will offer opening remarks at 5 pm and 5:45 pm. 
Time: Tuesday, Sept. 13, 4:45-6 pm,
Place: The Great Hall, Union Station, 225 S. Canal St., Chicago
For more information: See this page on Lake Forest College's Events Calendar

Featured Faculty Contributors
The work of Ben Goluboff, associate professor of English, on Kenneth Sawyer Goodman's one-act play "Back of the Yards" offers a jumping-off point on the panel "The Stockyards" through which to explore movies about Chicago's historic Union Stock Yards. 
In "Chicago: A City for Theatrical Training," Assistant Professor of Theater Chloe Johnston's work on the history of ensemble-generated theater in Chicago suggests a closer look at actors and actresses who have emerged from Chicago's world-class improv scene.
Professor of Music Don Meyer's research into the music of the 1893 World's Columbian Exposition anticipates this fall's release of "The Devil in the White City." The panel "Beyond the White City" looks back to a world's fair before the advent of moving pictures
Desmond Odugu, Assistant Professor of Education, traces the history of housing discrimination in Chicago, and in "A City of Great Migrations," shows how the changing character of Chicago's neighborhoods is reflected in films old and new. 
Associate Professor of Religion Ben Zeller's 360° immersive digital tours of Chicago sacred spaces asks that we look, also, at Chicago religious sites that have held starring roles in many films. 
Chicago Fellows Describe the Windy City
Digital Chicago Credits
Davis Schneiderman, Curator, Windy City in Motion, and Project Director for Digital Chicago
Emily Mace, Curator and Producer, and Chicago Digital Humanities Coordinator for Digital Chicago
Jaime Harris '18, Designer
Nick Nusbaumer '17, Assistant Curator and Researcher
Dan Kolen '07, Videographer
For updates about "Windy City in Motion," follow Digital Chicago on social media: