<div style="background-image:url(/live/image/gid/22/width/1600/height/300/crop/1/29643__train.rev.1450734095.jpg)"/>
<div style="background-image:url(/live/image/gid/22/width/1600/height/300/crop/1/29644_chicago_museums.rev.1451945214.jpg)"/>
<div style="background-image:url(/live/image/gid/22/width/1600/height/300/crop/1/42259_header.rev.1522425160.png)"/>
<div style="background-image:url(/live/image/gid/22/width/1600/height/300/crop/1/42260_header4.rev.1522425797.png)"/>
<div style="background-image:url(/live/image/gid/22/width/1600/height/300/crop/1/29870_header-museum.rev.1522770032.png)"/>
<div style="background-image:url(/live/image/gid/22/width/1600/height/300/crop/1/29881_header-skylinecropped.rev.1522426309.png)"/>
<div style="background-image:url(/live/image/gid/22/width/1600/height/300/crop/1/29646_internshipcropped2.rev.1451945094.jpg)"/>
<div style="background-image:url(/live/image/gid/22/width/1600/height/300/crop/1/42258_header2.rev.1522425093.png)"/>
Digital Chicago Student Researchers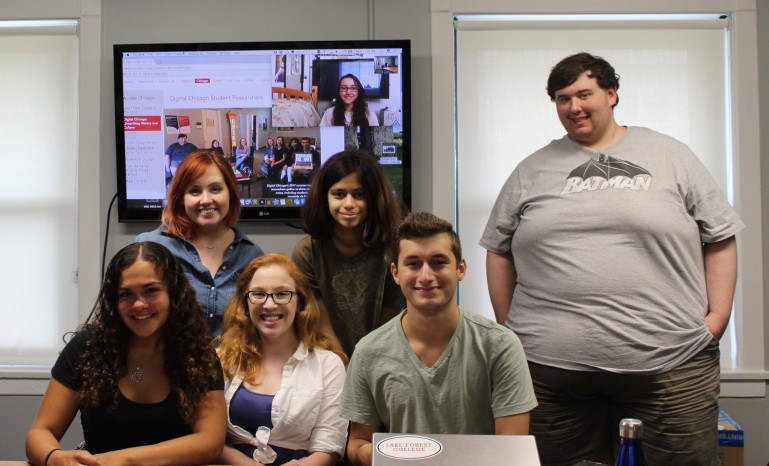 Student research forms a core component of Digital Chicago: Unearthing History and Culture. Students have the opportunity to work one-on-one with one of our Chicago Fellows as a Chicago Fellows Research Assistant, or to assist the work of the grant more generally as a Digital Chicago Research Assistant. Each summer, our student researchers gather as a group to share notes and resources, and during the school year as well, many students continue their work with a faculty member or with the grant's planning team.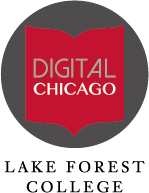 Nick Banks '16 offered videography assistance to Digital Chicago, helping to insert new title cards for Don Meyer's Max Wants a Divorce as well as taking videos of the recording session. 
Sydnie Bivens '17 assisted professor of music Don Meyer in summer 2015 as his Chicago Fellows Research Assistant. With Meyer, she poured through old movie music in the Balaban and Katz Collection at the Harold Washington Library Archives, and also identified the film at the core of Meyer's project, Max Wants a Divorce, a film which had been lost for decades. Bivens also created sound effects for the recorded music which has been added to the movie.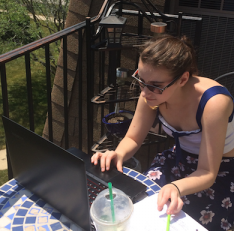 Sarah Boomgarden '19 joined Digital Chicago in 2017 as a Chicago Fellows Research Assistant for environmental studies professor Brian McCammack. She is assisting him with a study of Chicago's 1950s and 1960s jazz and blues scene as revealed in the photography of Raeburn Flerlage. His collected materials, including thousands of photographs and audio recordings of famous musicians and Chicago locales, have recently been acquired by the Chicago History Museum, and which will be featured in an upcoming 2018 exhibit about the Great Migration.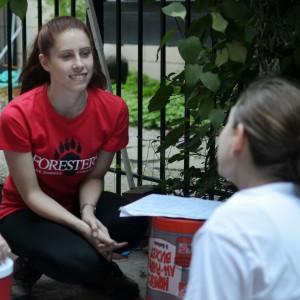 Anne Marie Brugioni '16 worked in Chicago Archaeological Fellow and Assistant Professor of Anthropology Rebecca Graff's archaeology lab during summer 2016, sorting through items found in excavations at the Charnley-Persky House in 2010 and in 2015's summer field school. Brugioni also spent summer 2015 as Professor Graff's Chicago Fellows Research Assistant, helping Graff to set up her new archaeological lab and to conduct excavation at and lab analysis of findings from the Charnley-Persky House Archaeological Field School. Brugioni hopes to work in museum collections or archives and believes her experience as a Chicago Fellows Research Assistant has provided invaluable experience to prepare her for this field.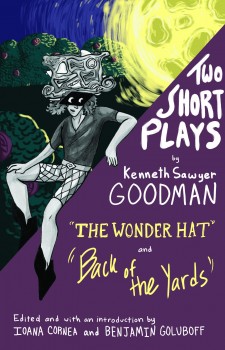 Ioana Cornea '16, worked with Associate Professor of English Ben Goluboff, on Two Short Plays by Kenneth Sawyer Goodman, shown at left.  She and Goluboff co-wrote the introduction to the volume, and researched Goodman's history in the Newberry Library's archives. The cover design is by Jaime Harris '18 (pen name Jaime Deare; see below).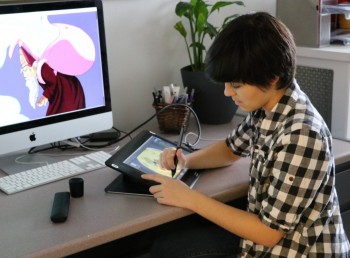 Jaime Harris (pen name Jaime Deare) '18 has collaborated with Digital Chicago on a number of projects, including designing the cover and providing illustrations for associate professor of English Ben Goluboff's and Ioana Cornea '16's Two Short Plays by Kenneth Sawyer Goodman from Lake Forest College Press (Fall 2016). Jaime also created over thirty full-color illustrations to accompany a1952 radio drama recording of "The Wonder Hat," to be released on Digital Chicago's official website and repository. Jaime lends design talent, as well, to the five Lake Forest College panels represented in the forthcoming exhibit (August 2016, ongoing) at Union Station, "Windy City in Motion."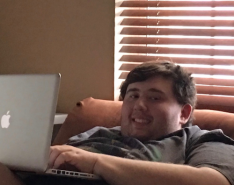 Zack Hines '19 assists politics professor Siobhan Moroney in summer 2017 with her research into the Chicagoland Prize Homes competition of 1945, an architectural competition sponsored by the Chicago Tribune in 1945 and intended to spur housing development after World War II. He's helping Moroney discover that this competition is just as understudied, and therefore ripe for further research, as she had thought.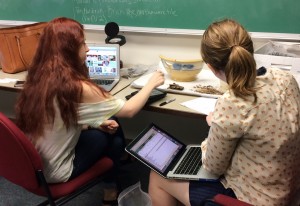 Rebecca Howell '17 (at right in photo) worked in summer 2016 as Chicago Fellows Research Assistant for Chicago Archaeological Fellow and Assistant Professor of Anthropology Rebecca Graff's archaeology lab, cataloging and researching items found in summer 2015's Archaeological Field School at the Charnley-Persky House. She worked in particular on adding items from the collection into the project's Omeka map and timeline of items found at the site. As a Digital Chicago Research Assistant, she also joined Nikoletta Raso in preparing Professor Swyers' project "Death in Chicago" for its web presentation. 
Altin Kukaj '19 began working for Digital Chicago in fall 2015, and has assisted with essential background research on 360° photography and virtual reality technology, Jane Addams's social reform work, text transcribing, and other varied and valuable tasks.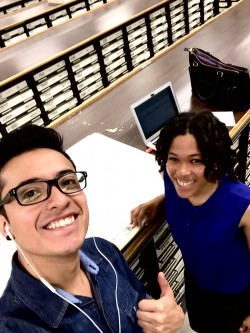 Credit: Bernie Reyes-FacioCamille Lemieux '17 and Jose "Bernie" Reyes-Facio '18, worked with assistant professor of education Desmond Odugu in 2016to track down records about discriminatory housing practices in Cook Count from the mid-nineteenth through early twentieth centuries. Lemieux says: "Studying racial restrictive covenants and redlining with Dr. Odugu and Bernie has opened my eyes to some of the latent relationships among social, legal, and political spheres across the country. I hope the study will motivate students to learn more about the history of their own neighborhoods in addition to helping scholars better understand Chicago's history. Every property in the city is coated with a rich, complex history involving real lives and real policies, which is not something people think about often; thankfully, this project gave us the opportunity to unearth and delve into that thought process every day."
Sanni Lindroos '17 worked with assistant professor of theater Chloe Johnston in 2016 to study the genealogy of ensemble-generated theatre in Chicago. Lindroos has attended and transcribed hours of theater workshops and exercises in order to prepare them for an online repository of these techniques.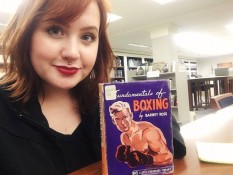 Isabel McKenzie '19 joins English professor Josh Corey in summer 2017, as they reconstruct the life of once-famous Chicago boxer Barney Ross (1909-1967). Here, Isabel is pictured with Ross's biography in the Chicago History Museum's research collection. His book, _The Fundamentals of Boxing_ (1942) was published four years after Ross' final famous fight, his 1938 match against Henry Armstrong (which you can see on YouTube!). Ross was a triple division champion—lightweight, light welterweight and welterweight—and lived, as his biographer Douglas Century writes, "an uncannily mythic life." Isabel says, "It's been beautiful, exciting, and jarring learning his story, and I'm so excited and grateful to be helping Professor Corey resurrect it."
Sonia Messar '17 served as associate professor of anthropology Holly Swyers's Chicago Fellows Research Assistant in 2015. Messar conducted the research and created the background framework that forms the core of the choose-your-own-adventure game "Death in Chicago," written by students in Swyers's fall 2015 Medical Anthropology class.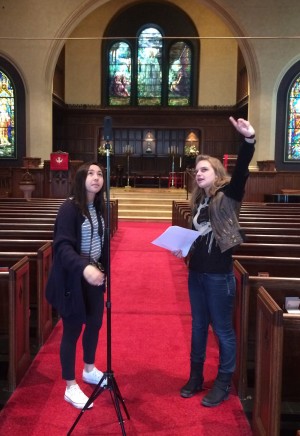 Julianne Mauriello '19 and Kristin Rawlings '19 worked with 2016 Chicago Fellow Ben Zeller as Summer 2016 Richter students on his Sacred Chicago project, creating a 360° tour of Lake Forest's First Presbyterian Church in just 3 weeks for their Richter project. The project serves as a proof-of-concept for Zeller's longer-term project of creating 360° online tours of sacred spaces in Chicago. 
Sophie Mucciaccio '19 worked with College Archivist and Librarian for Special Collections and this grant's Digital Archivist Anne Thomason as a Summer 2016 Richter Scholar, analyzing, digitizing, and creating an exhibit about Edward H. Bennett, architect and city planner who worked in close association with 1909 Plan of Chicago author Daniel Burnham.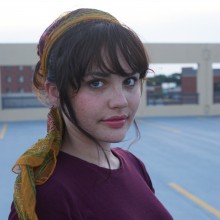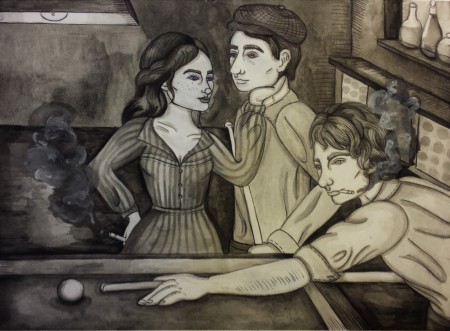 Illustration by Emily Murman.



 Emily Murman '19 illustrated  Kenneth Sawyer Goodman's one-act play "Back of the Yards" in Ben Goluboff's and Ioana Cornea's (see below) Two Short Plays by Kenneth Sawyer Goodman. Her black-and-white illustrations aptly capture the gritty reality of the Back of the Yards neighborhood in the early twentieth century. Murman majors in studio art and writing, and loves to illustrate with mixed media, particularly watercolor and pen. 
Madeleine Mynatt '18 has spent summer 2016 delving deeply into the life and work of Chicago's original local heroine Jane Addams, resurrecting her work for the peace movement of the early twentieth century and preparing a timeline for use in associate professor of politics Jim Marquardt's fall 2016 class, POLS 238: Jane Addams: Pacifist, Global Peace Activist.
Victoria "Tori" Nichols '19 joined the Digital Chicago team as a Chicago Fellows Research Assistant in fall 2015. Working for Don Meyer's 2016 Chicago Fellows project, about music at the 1893 World's Columbian Exposition, she identified souvenir music from the Fair as well as clues to the music that may have been heard at the Midway.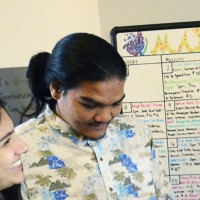 Nicholaus Nusbaumer '17 worked tirelessly to curate Digital Chicago's contribution to the "Windy City in Motion" exhibit at Chicago's Union Station, which will run from August 2016 into the winter months. He has also helped further Ben Zeller's Sacred Chicago project, assisting with an in-progress 360° tour of Chicago's historic Pilgrim Baptist Church.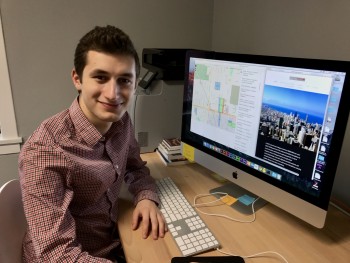 Hakob Parsamyan '20 joined the Digital Chicago team in fall 2016, working with Professor Desmond Odugu on his Restricted Chicago project. He has taken on the process of adding data about subdivisions to the project's online map and timeline, as well as synchronizing historical maps to reflect the decades as they appear on the maps. Parsamyan says, ""The purpose of this project is to explore and examine the study of restrictive covenant as one of the many strategies used for discrimination and racial segregation in the city of Chicago," Parsamyan said. "The project aims to represent the research through a digital map and timeline, making it more visible and easily understandable."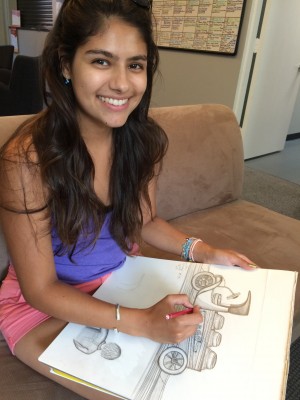 Nikoletta Raso '17 (at left) served in summer 2016 as Digital Chicago's resident digital storyteller, turning the interactive story about "Death in Chicago" by 2015 Chicago Fellow Holly Swyers's Medical Anthropology class into a fully functional, illustrated online narrative.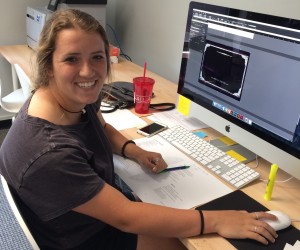 Rachel Tenuta '17 (at right) created the title cards that graced professor of music Don Meyer's renewed production of Max Wants a Divorce, and assisted with the book design and layout for associate professor of English's Two Short Plays by Kenneth Sawyer Goodman. 
 Dragan Trivanovic '17 assisted associate professor of communication Linda Horwitz in summer/fall 2016 to create an autopsy of the Pledge of Allegiance that will shed light on the history of the cultural ritual of reciting the pledge, while at the same time bringing forward controversies surrounding the pledge and how they relate to prominent communication theories. 
Kayla Whitney '16 assisted 2015 Chicago Fellow and associate professor of art history Miguel de Baca with his project "The Chicago Art World: Then and Now," which  brings together the histories and legacies of people, places, and institutions at the center (and the dynamic margins) of this creative city.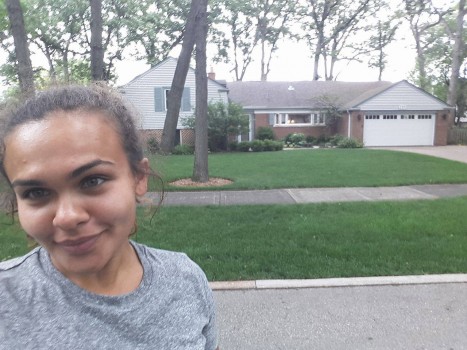 Krista Wickramasekera '20 works in 2017 as a Chicago Fellows Research Assistant for politics professor Siobhan Moroney. She and Moroney, along with fellow student research assistant Zack Hines (above), are tracking down homes built based on winning designs in the 1945 Chicago Tribune Chicagoland Prize Homes competition. Finding the homes involves travel to the city offices where a few of the homes were built, as well as locating the homes on today's city maps. Here, Wickramasekera has found one of the homes built in Highland Park, one of Chicago's North Shore suburbs. 
Other Student Involvement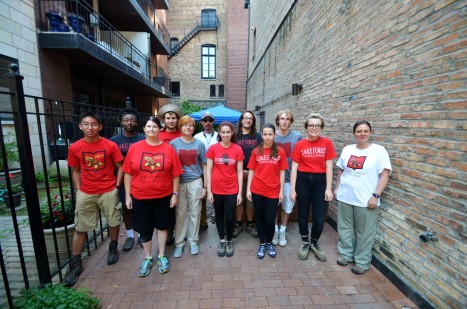 Archaeological Field School, Summer 2015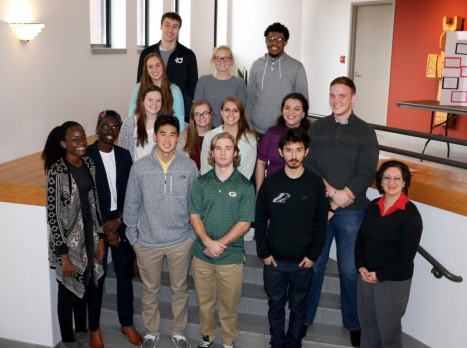 Rachel Ragland's FIYS 190 Class, Fall 2015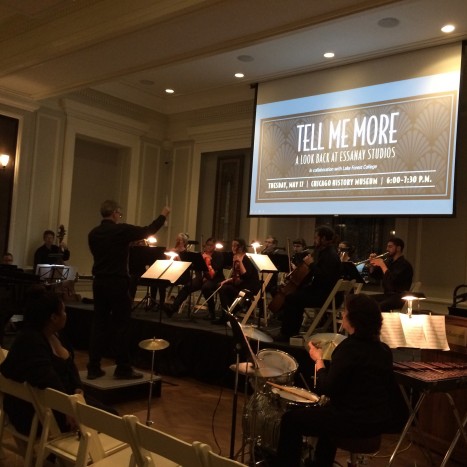 Current students, alumni, faculty/staff, and community members all perform together in Don Meyer's Lake Forest Moving Picture Orchestra.