<div style="background-image:url(/live/image/gid/20/width/1600/height/300/crop/1/40780_31484_finance_1.rev.1513697699.png)"/>
<div style="background-image:url(/live/image/gid/20/width/1600/height/300/crop/1/35592_shot02-041_v2.rev.1487090405.jpg)"/>
<div style="background-image:url(/live/image/gid/20/width/1600/height/300/crop/1/40782_science.rev.1513697713.png)"/>
<div style="background-image:url(/live/image/gid/20/width/1600/height/300/crop/1/40467_Speednetworking2_edited.rev.1510942416.jpg)"/>
<div style="background-image:url(/live/image/gid/20/width/1600/height/300/crop/1/40781_art.rev.1513697706.jpg)"/>
<div style="background-image:url(/live/image/gid/20/width/1600/height/300/crop/1/40779_31485_business.rev.1513697684.jpg)"/>
<div style="background-image:url(/live/image/gid/20/width/1600/height/300/crop/1/29606_internships_and_experience_1.rev.1448900255.jpg)"/>
<div style="background-image:url(/live/image/gid/20/width/1600/height/300/crop/1/40783_law.rev.1513697721.png)"/>
<div style="background-image:url(/live/image/gid/20/width/1600/height/300/crop/1/40469_Speednetworking3_edited.rev.1510946462.jpg)"/>
ACTIVATE: Summer Internship Program
Lake Forest College's ACTIVATE: Summer Internship Program is an all-access Chicago summer internship program that puts you in the career driver's seat. You'll reside in downtown Chicago at the College's Chicago Loop campus, receive cutting-edge career preparation and mentorship, and benefit from an internship at a Chicago internship location.
Eligibility
To be eligible to participate in this program, students must have and/or be:
A strong interest in experiencing the many resources offered by an immersive Chicago experience.
Good academic and judicial standing during time of application and time of participation in program.
A minimum GPA of 2.8 for the academic program. Certain internships may require higher GPAs or specific coursework/experience.
Completed at least two semesters of study and hold junior status or above at Lake Forest College before participation.
At least 18 years of age by the program's start date.
Able to stay at the host program for the duration of the program.
ACTIVATE is a 8 - 10 week program, depending on the internship.
The ACTIVATE: Summer Internship Program is a selective enrollment program, where admitted students participate in professional development opportunities before and during the program, receive personalized guidance to secure an internship, and earn up to two academic credits.
ACTIVATE is open to students from all majors who are interested in clarifying personal and professional goals, gaining career-building experiences, and getting to know fellow interns, as well as gaining access to alumni and friends of the College who are leaders in their chosen fields. Unlike doing an internship on your own, you will be surrounded by people with similar experiences, as well as program staff who are able to help you maximize the value of your summer.
Internships
All students are required to complete an academic internship as part of the ACTIVATE: Summer Internship Program. While participating in the ACTIVATE: Summer Internship Program, you will complete an internship of up to two credits, totaling 300 hours over the course of the summer.
Admitted students will receive hands-on guidance from the Career Advancement Center to secure a Chicago internship. Both the Career Advancement Center and ACTIVATE staff will assist you in honing your career goals, while collaborating closely with you on the internship search and selection process to ensure you have the training and skills to make a great impression on your summer employer.
Once you have your internship in hand, you will continue to receive mentoring and professional development throughout the summer.
You may also elect to complete 1, 1.25, 1.5, or 1.75 credits upon approval of the Career Advancement Center and ACTIVATE staff.
Housing, Meals, and Transportation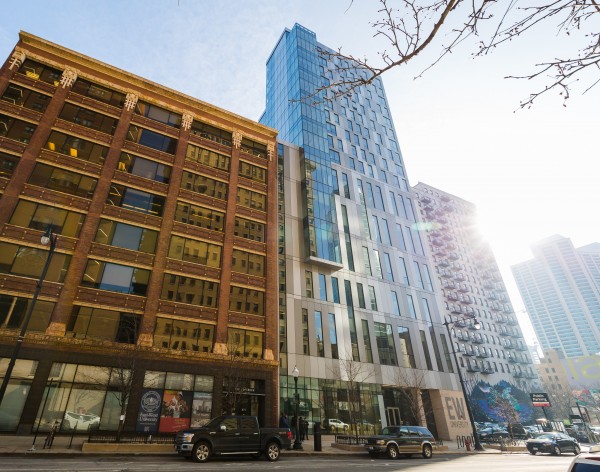 Loop Slideshow
The Flats, the Lake Forest College In The Loop and ACTIVATE: Summer Internship Program residential building.
Students reside at The Flats, a residential building located in the South Loop in the heart of the Wabash Arts Corridor.
Up to 16 students live in double-occupancy bedrooms, two to three bedrooms in each apartment. Each bedroom is equipped with desks, beds, wardrobes, and dressers. Each apartment contains a common area, bathroom, and kitchen. Apartments are provided with cable TV in the common room and internet/wifi throughout the apartment. All apartments feature floor-to-ceiling windows with views of Lake Michigan and/or the city skyline.
Students are responsible for covering their own meals throughout the duration of the program. There are several grocery stores within the area, including Trader Joe's, Jewel, and Target.
All students are provided with a U-Pass for CTA travel, paid for by the College.
Program Cost
The fee for the ACTIVATE: Summer Internship Program includes tuition, orientation, housing, internship supervision, professional development activities, and a U-Pass for unlimited CTA travel.
ACTIVATE tuition, including eight weeks of housing: $9,190
ACTIVATE tuition, including ten weeks of housing, requires an additional $530 fee: $9,720
ACTIVATE includes two credits of internship for 300 hours over the course of the summer.
Financial Aid
The ACTIVATE: Summer Internship Program provides up to three grants:
ACTIVATE Grant: Lake Forest College students who currently receive either a merit scholarship or need-based aid will receive an automatic ACTIVATE Grant of $2,000.
ACTIVATE PLUS Grant: High-need students may be eligible to receive an ACTIVATE PLUS Grant of up to $2,300.
ACTIVATE BONUS Grant: An additional ACTIVATE BONUS Grant will be available by application essay.
Application Instructions
The application deadline for the ACTIVATE 2020 program has now passed. If you are interested in applying to the program, please contact Chicago Program Coordinator, Stephen Green (sgreen@lakeforest.edu), directly.

8-Week Session: May 26 - July 21*
10-Week Session: May 26 - August 4*
*Students are expected to stay at The Flats for the duration of the program.