<div style="background-image:url(/live/image/gid/12/width/1600/height/300/crop/1/30405_area_studies.rev.1454625046.png)"/>
Gummere Fellows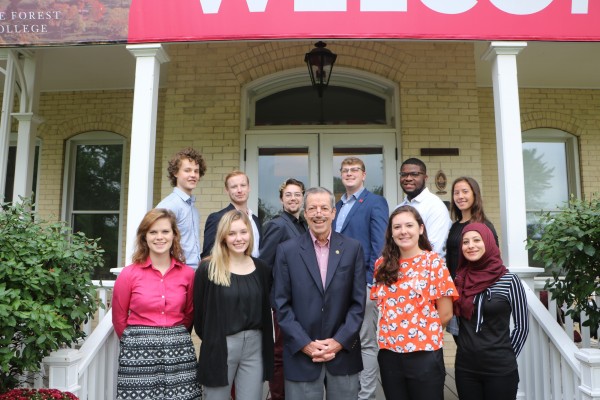 Not pictured: Hannah Gurholt '21, Fallon Longfield '21, Aaron O'Neill '21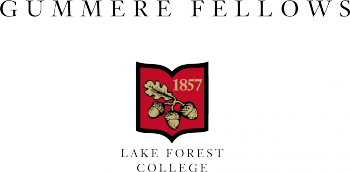 About the Gummere Fellows Program:
Francis B. "Spike" Gummere, Jr. joined the Lake Forest College staff in 1968 as Director of Admissions and has been an integral part of the campus community for five decades. Over the years Spike has provided guidance to, mentored and admitted thousands of students, always holding firm to his belief in looking for people with potential and the ability to grow. Anyone who has ever met him remembers it—and remembers how he has stayed in touch long after graduation.  Spike changed lives, and continues to do so today, and the College and generations of students are the better for it.
On October 8, 2016 hundreds of adoring students, alumni, parents, and friends filled the Tiernan Trophy Room to capacity to celebrate the Gummere Era and recognize Spike's loyal and devoted service to the College. In conjunction with the celebration, and as part of the Access Campaign, a special fundraising effort in Spike's honor—The Spike Initiative—was also launched and will continue through May 2020. Thank you to those who have supported The Initiative already. For those interested in learning more about The Spike Initiative visit the following link: (https://www.lakeforest.edu/alumni/spike/). 
One result of funds already raised through the Spike Initiative has been the formation of the new Gummere Fellows Program, which appoints students to play pivotal roles in the College's enrollment strategies.  This program is very meaningful to Spike as it supports student recruitment efforts, which he oversaw for nearly 30 years. As important to Spike, the Fellows are actively involved in Development and Alumni Relations events and alumni engagement. 
Each year, students will apply and interview for Gummere Fellowships.  Those chosen will be involved and positive contributors to campus life who share, as does Spike, a genuine pride in Lake Forest College.  These qualities are essential as Gummere Fellows will be charged with representing the College, and Spike, at admissions receptions and alumni gatherings both locally and across the country.
Meet the 2019-20 class of Gummere Fellows: