Grace Glaszcz '23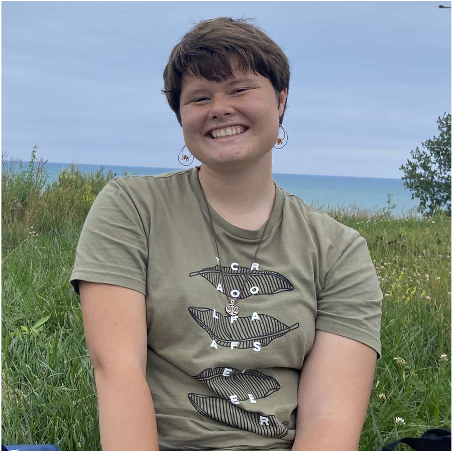 Hometown: Hartford, WI
Major: International Relations
Minor: Environmental Studies
Co-curriculars: Student ambassador, Greenhouse student worker, Writing Center tutor, Radio station (WMXM 88.9 FM), Pride Club, Ink Club, Richter Scholar, First Connection mentor
Email: glaszczga@lakeforest.edu
What drew you to Lake Forest College?
I was looking for a college that had access to a big city, and I definitely found that here at Lake Forest. I like being in a quieter area with lots of green spaces, but also being able to go down to Chicago whenever I want. It was also very clear from my first day on campus that our professors care about our students. It's so easy to build relationships with them, ask questions, and get the most out of all your classes.
Have you had experiences here—besides your classes—that have helped prepare you for your future?
Lake Forest emphasizes independence and learning outside of the classroom. While I am very supported here, I know that I have to take initiative and go after the things that I want to get out of my college experience. We also have an experiential credit that all students must fulfil, which could be by studying abroad, doing our In the Loop program, completing an internship, or taking a class that goes on lots of fieldtrips. I appreciate that the college wants us to learn not only from our classes and lectures, but also out in the "real world."
What do you do in your free time?
There are always things going on here on campus, whether it's club meetings, sports games, or department events. I love to go watch our men's and women's hockey games and go listen to any speakers our International Relations or Environmental Studies departments invite. Off campus, I like to head into downtown Lake Forest to go to the Starbucks Reserve or grab brunch at Egg Harbor Café, or head down to the beach when it's warm outside! I also love to go down to Chicago with my friends--Andersonville is my favorite neighborhood!
What are your plans after graduation?
While I haven't fully decided, I think it would be interested to work for a non profit environmental organization, to have a position with an embassy or the government, or even to work for a university doing research. Liberal arts schools like Lake Forest provide a super well rounded education that allow for a wide variety of jobs after graduation.
Any advice for new Foresters?
My advice for new Foresters is to experiment with new classes and interests, but also be able to experiment with yourself. I have met so many new people in just two years and gained a lot of new experiences and perspectives. Also get enough sleep. It really helps.
What has been your favorite memory at Lake Forest College?
One of my favorite memories at Lake Forest College was when my friends and I set up five hammocks between the trees on Middle Campus. Since we all wanted to be next to each other, we stacked three of the hammocks between the same trees. I was on the top hammock, probably ten feet off the ground (disclaimer: do not try this at home) and I had to climb up the tree to get into my hammock! It was so nice to sit outside for a couple hours and watch all the funny looks people gave us! I definitely recommend getting a cheap hammock, there's plenty of trees!
Parting words?
My biggest piece of advice is to find the right fit for you. Don't settle for the place all your friends are going, or where you think you're expected to go. College is expensive and you have to put in the work, but it's also the best time to have fun and explore your interests and yourself. I've found my best friends here at Lake Forest, been able to take advantage of the opportunities presented here, but that's me. If you go to a school and don't like it, transfer. If you need to take a gap year or go to community college, do it! If you want to work for a few years, do it! College is the beginning of you taking control of your life and deciding what you want to do with it.