<div style="background-image:url(/live/image/gid/10/width/1600/height/300/crop/1/29874_header-aerial.rev.1450207337.jpg)"/>
<div style="background-image:url(/live/image/gid/10/width/1600/height/300/crop/1/29736_apply-_needs_to_be_cropped.rev.1451944927.jpg)"/>
<div style="background-image:url(/live/image/gid/10/width/1600/height/300/crop/1/48737_IMG_9636.rev.1541712259.jpg)"/>
<div style="background-image:url(/live/image/gid/10/width/1600/height/300/crop/1/29649_visit_campus-cropped.rev.1450717447.jpg)"/>
Transfer Scholarships
A Lake Forest College education prepares you for the future, invests in your potential, and sets you on the path to success. We offer up to $30,000 a year in merit-based scholarship for transfer students. 
Our Forester Flagship Program offers qualified in-state students up to 100% of the College's tuition covered in grants and scholarships.
Are you:
Entering with over 26 hours of coursework
Applicants entering with over 26 hours of completed coursework will be evaluated through a holistic review process. Using your transcript, letters of recommendation, interview, and test scores (optional), we will offer a scholarship of up to $25,000 annually in recognition of your achievements.  
Entering with up to 26 hours of completed coursework
Use your weighted high school GPA and/or your ACT/SAT score to see the scholarship you could be eligible for.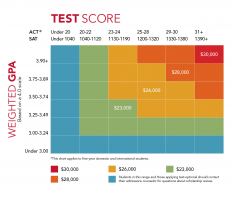 Not on the grid? You can still apply. At Lake Forest College, we know that our students are more than just a number. We are searching for interesting, well-rounded students to add to our diverse community. Our holistic admission process takes into consideration your engagement with the College, accomplishments in and out of the classroom, leadership potential, course preparation, and more. 
Applying test-optional? No problem.
You will be reviewed for scholarship on an individual basis using our holistic review process. Schedule an interview with your admission counselor as soon as possible. We believe that this conversation tells more about a student's drive and passion for learning than a standardized exam. 
Phi Theta Kappa (PTK) Scholarship
This scholarship recognizes transfer students who hold current membership in Phi Theta Kappa, an international honor society of two-year colleges. Scholarships are offered at the time of admission and may not be added after you have begun your enrollment. Scholarships are valued at $25,000 per year. Students who have a GPA of 3.75 and higher will receive $30,000 per year.  This scholarship is renewable for one year only.
Click here to learn more about the Phi Theta Kappa Scholarship
Fine Art Scholarships
Lake Forest College offers talent-based scholarships in music, studio art, and theater. Scholarships require an application for admission, the scholarship application, and either an audition for music and theater, or portfolio review for studio art. Scholarships are available to both majors and non-majors.

Transfer students are still eligible to apply for a Fine Art Scholarship. Applicants must complete an application for admission and either an audition or portfolio review by July 1 for the fall semester and December 1 for the spring semester. Scholarships are available for both majors and non-majors.  Transfer students may contact Melissa Naughton with questions at naughton@lakeforest.edu or 847-735-5009.
Steps to complete the Fine Arts Scholarship application
1. Apply to Lake Forest College 
2. Complete the Fine Arts Scholarship Application
3. Finalize the application by submitting your portfolio or completing your audition.