<div style="background-image:url(/live/image/gid/74/width/1600/height/300/crop/1/30080_summer.rev.1452186498.jpg)"/>
Archaeological Field School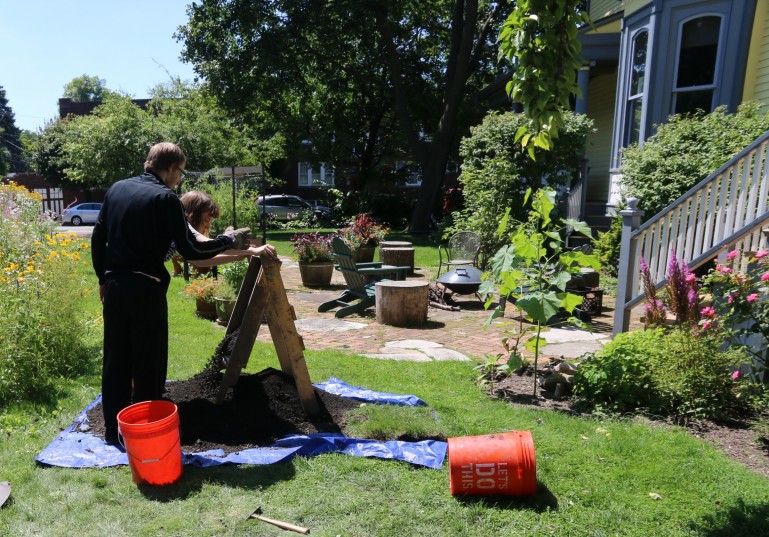 Students sift through dirt unearthed at the Gray House during a summer 2017 initial survey of the Gray House, led by Dr. Rebecca Graff in preparation for this summer's Field School.
Are you interested in learning how to excavate a 19th-century archaeological site? Do you want to unearth the history of a Chicago neighborhood? Are you willing to get dirty to study how urban archaeologists explore the dynamic experiences of city life through material culture? If so, consider joining Lake Forest College's 2018 Archaeological Field School (SOAN 205), to be held at the Gray House in Chicago's Old Irving Park Neighborhood during the July 2018 Term (July 9-August 2).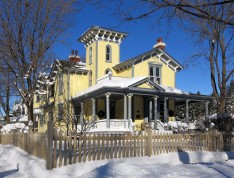 Led by Dr. Rebecca Graff, students in SOAN 205 will serve as field crew for an archaeological excavation at the 1856 Gray House in Chicago's Old Irving Park neighborhood. Known for his vocal stand against slavery, John Gray was the first Republican Sheriff of Cook County (1858-1860). In the years after his death, popular narratives arose designating his former home a station on the Underground Railroad.
City On The Make, City In The Dirt
"Urban archaeology allows us to bring the past to light in ways that inform our present understandings of our great American cities," said Graff.
"Chicago deserves to have its stories told before we lose them to construction and development. This initiative will help people to understand the history right under their feet, informing the daily lives of Chicagoans past, present, and future."
Course Description
SOAN 205: Arch­­­aeological Field School 
Archaeological Field School introduces students to the discipline of archaeology, with an emphasis on fieldwork and excavation. Students will serve as the field crew on an archaeological dig in Chicago, with lectures, readings, workshops, and field trips providing the theoretical and historical context for the archaeological methods. Students will learn excavation, recording, laboratory and analytical techniques via some traditional coursework but, most significantly, through participation. Students will have the opportunity to experiment with these techniques, discuss the implications of their findings, and compare them with the research and ideas of professional archaeologists.
First priority is given to Lake Forest College students. Non- Lake Forest College students will be sent additional information upon selecting this course during the  registration process. 
Mellon-Foundation Support
SOAN 205: Archaeological Field School is supported in part by a generous four-year (2015-2018) grant to Lake Forest College from The Andrew W. Mellon Foundation, Digital Chicago: Unearthing History and Culture.  Dr. Graff inaugurated the initial Archaeological Field School in 2015 at the Charnley-Persky House in Chicago; you can find out more about the 2015 field school, and the exciting artifacts Dr. Graff and her students uncovered, at our digital humanities website.  
Faculty
Rebecca Graff
Assistant Professor of Anthropology
Areas of Study: historical archaeology, U.S. urban archaeology (19th- and 20th-century Chicago), modern and contemporary material culture, world's fairs and expositions, anthropology of time and temporality, archaeology of tourism
Questions? 
Contact Dr. Rebecca Graff for more information about the course. For any questions concerning registration or other summer school logistics, please visit Summer Programs.