<div style="background-image:url(/live/image/gid/74/width/1600/height/300/crop/1/30080_summer.rev.1452186498.jpg)"/>
Summer Classes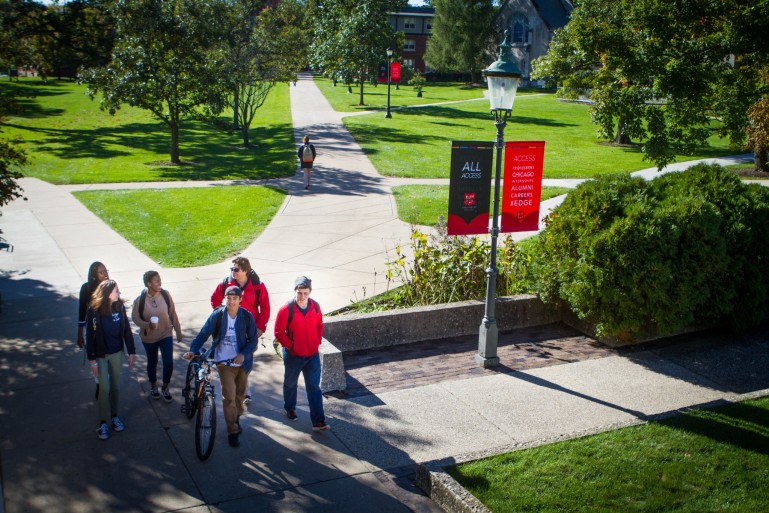 Like other schools across the country, Lake Forest College has moved all of our courses online for the remainder of our Spring term due to the COVID-19 pandemic.
With the rapidly evolving situation, at this time it is impossible to predict whether conditions will allow in-person courses for our May term. However, we will be working with instructors of the courses to determine which of them could be offered online this summer. We hope to begin sharing that course list by early April.
We offer three summer sessions in May, June, and July. Classes meet four days per week over four weeks—it's face-to-face instruction that lets you still enjoy the sun, and the beach! 
Whether you are a current Lake Forest College student (or hope to be one soon), a visitor from another institution, a high school student or a member of the community, we welcome you to join us.
Small Classes, High Impact
Lake Forest College's Summer Session 2020 offers our top faculty instructors in face-to-face courses that will excite and challenge you. At Lake Forest College, you can use the most current digital technologies in small-group discussion, demonstrations, debates, field trips, and conversations that will prepare you for your career, your academic studies, and the life you most want to lead.
What You Want, When You Want It
Lake Forest College's small class size means you are never a number, a cell in a spreadsheet, or lost in the back of a cavernous lecture hall. Most classes meet three hours a day, four days a week, either in the mornings or in the afternoons, leaving time to read and study, complete homework, and make the most of your summer.
Prerequisites? Don't worry. Most of our Summer Session classes do not have prerequisites. All courses are open to both Lake Forest College students and other visitors. Check out the 2020 calendar. 
May Term: May 12–June 5, 2020
June Term: June 8–July 2, 2020
July Term: July 6–July 30, 2020
View the summer schedule and course descriptions.
Where You Want to Work: Internships
Summer internships can give you a jump-start on your career. Lake Forest College's summer internship programs comes with the support of your own career success team. 
The Lake Forest College ACTIVATE: Summer Internship Program provides immersive living-learning experiences in downtown Chicago complemented by special networking events and career preparation activities designed specifically for program participants.
Your Faculty Internship Supervisor will put learning front and center, with well-designed assignments that will lead you further along your path toward CEO, creative writer, or chemist.
Summer internships are only open to Lake Forest College students.
At the Right Price
Our Summer Session tuition is $3,300 per course or internship. Each Lake Forest College course is equivalent to 4.0 semester hours. 
Lake Forest College students behind on credits are eligible to take a course at $600, as low as any other summer program in the Chicago region. See the Forester Finish page for details.
Lake Forest College students and visiting students are also eligible for a need-based financial grant.
Summer Session high-school student tuition is $3,300 per four-credit course. Summer Merit Scholarships are available in award amounts up to $2,300, bringing tuition for award recipients to $1,000. 
Summer Session community student tuition is $2,950 per four-credit course. The auditor rate is $400. 
Note: a $100 deposit is required for visiting student and high-school student course registration, with deadlines for each term (May Term deadline May 5; June Term deadline June 1; July Term deadline is June 29).
Live it Up
Lake Forest College students may live in our well-appointed residence halls for each four-week summer session. Pricing for summer housing packages will be announced soon. 
The Office of Residence Life (reslife@lakeforest.edu) coordinates the summer housing process. The applications process is open from mid-March through mid-April. Specific dates TBA.
Summer housing is available for:
Richter Scholars
Student participating in a College-approved internship
Students enrolled in summer courses at the College
Students working at the College (25 hours per week)
Because of the limited availability of summer housing, we are not able to offer housing to students who are working off-campus jobs or taking classes at other institutions.