<div style="background-image:url(/live/image/gid/6/width/1600/height/300/crop/1/29873_header-aerial.rev.1450206652.jpg)"/>
<div style="background-image:url(/live/image/gid/6/width/1600/height/300/crop/1/30027_self_designed_major.rev.1451946126.png)"/>
<div style="background-image:url(/live/image/gid/6/width/1600/height/300/crop/1/30024_area_studies.rev.1451945934.png)"/>
<div style="background-image:url(/live/image/gid/6/width/1600/height/300/crop/1/30028_english-_literature.rev.1452013046.png)"/>
<div style="background-image:url(/live/image/gid/6/width/1600/height/300/crop/1/30485_library.rev.1454952369.png)"/>
<div style="background-image:url(/live/image/gid/6/width/1600/height/300/crop/1/29871_papers.rev.1452013163.png)"/>
<div style="background-image:url(/live/image/gid/6/width/1600/height/300/crop/1/30025_education.rev.1451945980.png)"/>
Tusitala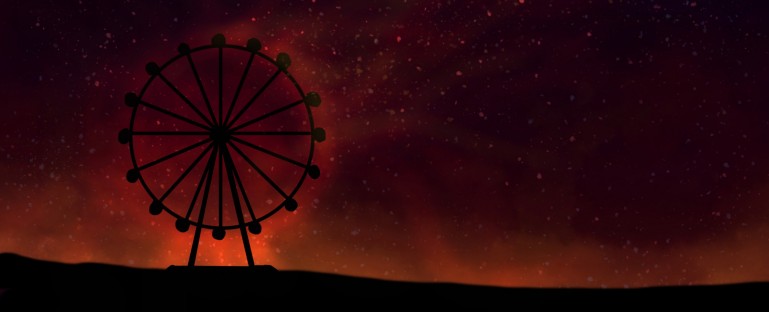 A Slow Burn by Leah Moss
Lake Forest College's premier literary magazine, Tusitala, has dedicated itself to showcasing the creativity and diversity its student body has to offer. Published bi-annually during the spring semester, Tusitala stands as both an outlet and showcase for the very best student and faculty poets, prose writers, photographers, musicians, and artists of nearly any variety.
The magazine is created by the student body and  is for the student body. It recognizes the talents of Lake Forest College's students Tusitala by hosting an annual publishing party where free copies of the year's issue are distributed!
PUBLICATION NEWS
Tusitala Announcement:
Tusitala's Emma Glauser will be hosting writing days from 4:00 PM to 5:00 PM on Thursdays for the rest of the semester. Tea will be provided!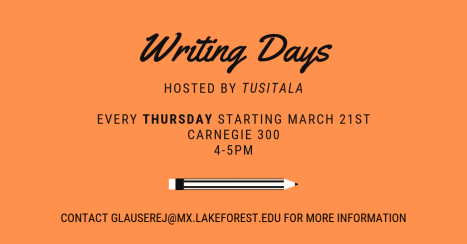 Tusitala 2019 Poetry Busking:
Thank you to everyone who stopped by to receive a typed poem from our Tusitala staff at our second Poetry Busking!
Contributors from our last issue, Oddities, also had the opportunity to pick up their copies. If you are still missing one, head to the Carnegie lounge or the bookstore!
Oddities Digital Release 
A huge thanks to all that attended our digital release of Oddities, our latest issue on Halloween! We appreciated all that came to support the hard work of Tusitala and the contributors that made Oddities possible.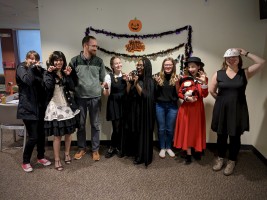 2018 Tusitala executive members pose for a photo.
There, we treated our guests with snacks while admiring the art of our students and later were given the opportunity to hear readings from the author's themselves.
To find our online issue, visit the Archive section of our page or click here. 
Lake Forest LitFest
The annual Lake Forest Literary Festival welcomes writers, artists, filmmakers, and other creative thinkers to the college for readings, workshops, and student discussions.
Tusitala members Leah Ross '20, Isaac Winter '20, and Emily Murman '18
During LitFest 2018, a few Tusitala members were invited to the LitFest Dinner at Glen Rowan.
There, they had the opportunity to hear speeches and discuss various literary interests one-on-one with invited authors and professors.
Tusitala Hosts Valentine's Day Poetry Busking
Students of Tusitala helped to raise donations for the American Heart Association on Valentine's Day.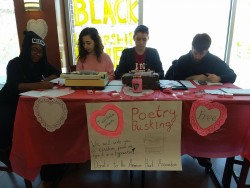 Members Leah Moss '20, Sophia Roumeliotis '20, Rebecca Reitemeir '20, and Isaac Winter '20.
During our annual event, Tusitala members type custom poems on vintage typewriters.
Want to share your poem? Make sure to tag us on Instagram or Facebook!
| | |
| --- | --- |
| Facebook: | Instagram: |
| LFC Tusitala | tusitalalfc |
Tusitala Celebrates at Jellyfish Launch Party
Members celebrate another successful publication of Jellyfish, the Spring 2018 issue!  
Advisor Zach Martin, Rebecca Reitemeir '20, Sophia Roumeliotis '20, Zanub Husain '19, Leah Moss '20, Isaac Winter '20, Emily Murman '18.
Tusitala held a launch party to appreciate the work put into this publication and all the contributors who were published.
To find our online issue, visit the Archive section of our page or click here. 
Check out some pictures from the Elements  publishing party!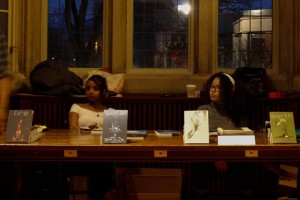 Cameron Pilcher '16
Tusitala: Elements Spring 2016 Publishing Party
Tusitala:Elements Spring 2016 Issue. March 24, 2016.