<div style="background-image:url(/live/image/gid/152/width/1600/height/300/crop/1/47158_annie-spratt-608002-unsplash.rev.1538512909.jpg)"/>
<div style="background-image:url(/live/image/gid/152/width/1600/height/300/crop/1/47147_adolescent-adult-blur-933964.rev.1538511206.jpg)"/>
<div style="background-image:url(/live/image/gid/152/width/1600/height/300/crop/1/47157_achievement-agreement-arms-1068523.rev.1538512792.jpg)"/>
<div style="background-image:url(/live/image/gid/152/width/1600/height/300/crop/1/47150_apple-black-and-white-black-and-white-169573.rev.1538511480.jpg)"/>
<div style="background-image:url(/live/image/gid/152/width/1600/height/300/crop/1/47160_person-1990906_1920.rev.1538513059.jpg)"/>
<div style="background-image:url(/live/image/gid/152/width/1600/height/300/crop/1/47159_blackboard-573023_1920.rev.1538512979.jpg)"/>
VirtualSpace
The VirtualSpace will be open by appointment only for the Fall 2020 semester. Please contact virtualspace@lakeforest.edu with any questions.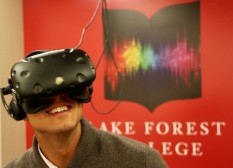 Lake Forest College's  VirtualSpace highlights the best in the fast-developing world of virtual reality (VR)! In this space, students, faculty, and staff can create and explore virtual worlds. 
We are also available by appointment. Email virtualspace@lakeforest.edu for more information or fill out this form. 
Who may use the VirtualSpace?
The VirtualSpace is open for use by students, faculty, staff, and the wider community. Contact us to find out more.   
Where are you located? 
The VirtualSpace is located on the second floor of Donnelley and Lee Library in Room 212.  
Does Lake Forest College have a virtual reality club? 
---
Some of the VR demos and games you can explore: 
Hidden and Faraway Worlds

3D Organon VR Anatomy
The Body VR: A Journey Inside a Cell
COSM
Google Earth VR
theBlu — see a sample on the College's YouTube channel
---
Just for the Fun of VR

Accounting 
Fruit Ninja VR
The Lab (demos by HTC Vive's creator, Valve)
Rec Room
Star Trek: Bridge Crew
Waltz of the Wizard
---
Art Up Close

The Night Café - A Tribute to Van Gogh
SketchFab VR
Google Tilt Brush
VR Museum of Fine Art
Oneiric Sculptures — Rodin
---
Worlds of Nature, Physics, and Space

NatureTreks VR
n-body VR
Star Chart 
Titans of Space
Spacetours
---
Virtual Storytelling

Obduction
The Solus Project
Trials on Tatooine
La Peri — the Firebird (available in French)