<div style="background-image:url(/live/image/gid/58/width/1600/height/300/crop/1/29920_music_2.rev.1450299708.png)"/>
Choral Ensembles
Singing in a choir is a great way to make your voice heard on campus, and there is a place for you in an ensemble regardless of your major or prior experience. The choirs at Lake Forest College perform a breadth of repertoire from a variety of musical traditions both on and off campus. Sign up for a voice placement hearing today!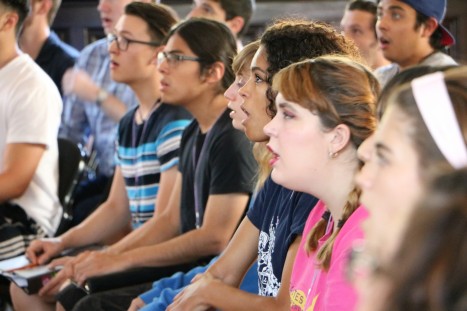 The Lake Forest College Concert Choir and Chamber Singers performs a variety of choral music exploring classical, global, and popular repertoire for mixed chorus from the Renaissance through the 21st century. Concerts, both on and off campus, may include convention presentations, touring, and collaborations with other ensembles including the LFC Chamber Orchestra, other college and community choruses, and a wide range of soloists. 
Beginning in the 2010-2011 school year, the Lake Forest College Concert Choir and Chamber Singers will embark on an annual concert tour, alternating between spring break and May term. Extended international touring will occur once during every four-year cycle and may include destinations within Europe, Asia, Australia, South America, and Africa. 
Planning for a concert tour is a mammoth task and will require a great deal of student participation, both in the year of the tour and the year preceding the tour. Planning will begin this year for our initial domestic concert tour, tentatively scheduled for March of 2011.