<div style="background-image:url(/live/image/gid/54/width/1600/height/300/crop/1/29895_mathematics_header.rev.1450297934.png)"/>
<div style="background-image:url(/live/image/gid/54/width/1600/height/300/crop/1/29894_computer_science_header.rev.1450297918.png)"/>
Mathematics and Computer Science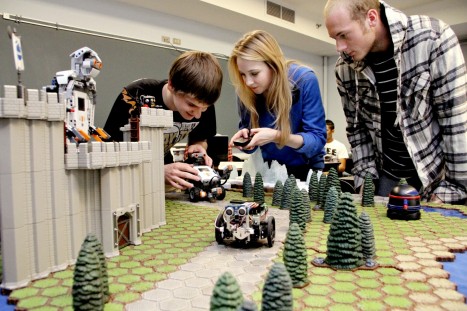 Concepts and techniques of data science, mathematics, and computer science play a vital role in everyday life. The curriculum and other activities of the Department of Mathematics and Computer Science reflect this.
Mathematics
Our mathematics program offers students a solid and comprehensive foundation in both theoretical and applied mathematics, leaving students well prepared for the pursuit of graduate studies or a wide array of career paths related to mathematics. Our program provides a solid foundation in traditional theoretical mathematics. In keeping with the demands of an increasingly technical and automated workplace, we also feature robust coursework in applied mathematics and statistics, with a particular focus on computational mathematics and various applications of computing and computing theory in mathematics and data science. Mathematics is a naturally collaborative discipline affording students the rich opportunity to merge quantitative and analytic interests with other interests in the natural and social sciences, and/or humanities.
Computer Science
Our computer science program offers students a theoretical foundation essential for graduate studies as well as the practical tools required for a variety of careers that include computer programming, software development, database administration, systems administration, and Web development. Our connections to Chicago facilitate a variety of internship opportunities that help our students prepare for the ever-changing technology needs of the workplace and the myriad career paths that are related to computer science.
Data Science
Our data science program responds to an ever intensifying societal demand for expertise in the management and analysis of data. An exponential growth of data, in the forms of text, numerical information, graphs, and images has occurred within virtually every academic discipline and in all aspects of life. 
Department News
On Sums of Consecutive Triangular Numbers, a mathematics research paper co-authored by Dipika Subramaniam '21 and Associate Professor of Mathematics Enrique Treviño, was published in the journal Integers in April 2020.
<span class="lw_profiles_image"><span class="lw_item_thumb"><a href="/live/profiles/611-mark-guttman"><img src="/live/image/gid/54/width/242/height/242/crop/1/27647_unknown.rev.1440528525.jpeg" alt="Mark Guttman" title="Mark Guttman" class="lw_image" width="242" height="242" data-max-w="345" data-max-h="400"/></a></span></span><div class="quote"><p> "The faculty at Lake Forest made a positive impact on my life that I attribute much of my success to and which I will forever be grateful for."</p></div><a class="recruit-link" href="/live/profiles/611-mark-guttman">Mark Guttman '12 is a senior software engineer at Rosenthal Collins Group, LLC.</a>
<span class="lw_profiles_image"><span class="lw_item_thumb"><a href="/live/profiles/2359-alec-bruns-17"><img src="/live/image/gid/187/width/242/height/242/crop/1/src_region/0,0,640,960/35536_alec.rev.1486674249.jpg" alt="Alec Bruns '17" title="Alec Bruns '17" class="lw_image" width="242" height="242" srcset="/live/image/scale/2x/gid/187/width/242/height/242/crop/1/src_region/0,0,640,960/35536_alec.rev.1486674249.jpg 2x" data-max-w="640" data-max-h="960"/></a></span></span><div class="quote"><p> "I left my internship with so much more knowledge in many concepts."</p></div><a class="recruit-link" href="/live/profiles/2359-alec-bruns-17">Alec's Internship gave him a direct path to his career.</a>