<div style="background-image:url(/live/image/gid/6/width/1600/height/300/crop/1/30028_english-_literature.rev.1452013046.png)"/>
<div style="background-image:url(/live/image/gid/6/width/1600/height/300/crop/1/30027_self_designed_major.rev.1451946126.png)"/>
<div style="background-image:url(/live/image/gid/6/width/1600/height/300/crop/1/30025_education.rev.1451945980.png)"/>
<div style="background-image:url(/live/image/gid/6/width/1600/height/300/crop/1/29871_papers.rev.1452013163.png)"/>
<div style="background-image:url(/live/image/gid/6/width/1600/height/300/crop/1/30024_area_studies.rev.1451945934.png)"/>
<div style="background-image:url(/live/image/gid/6/width/1600/height/300/crop/1/30485_library.rev.1454952369.png)"/>
<div style="background-image:url(/live/image/gid/6/width/1600/height/300/crop/1/29873_header-aerial.rev.1450206652.jpg)"/>
Inuktitut (Eastern Canadian Inuit Language)
About Inuktitut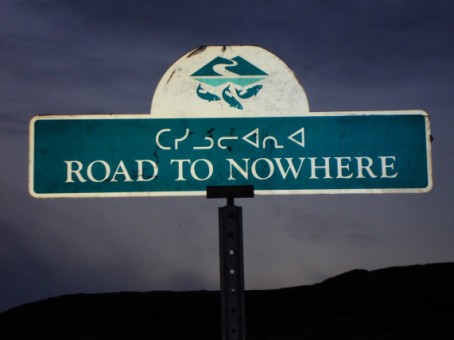 The Road to Nowhere in Iqaluit, Nunavut, Candada.  (Source)

"I'm On The Road to Nowhere"
I'm on the road to nowhere 'tis all uphill from here
The past is gone forever 'tis the future that I fear
And every day that I live is nearer to my end
And that I do not fear the thought of dying I never do pretend.
My past is gone forever fading memories of it only left
And of any hope of a better future I feel utterly bereft
Like a broken winded old horse I quickly seem to tire
About me there is nothing that others might admire.
A stranger in the Town I live in and a stranger on my street
And everyone to me a stranger yes everyone I meet
The bird into the hedgerow it quietly crawls to die
He goes to meet the reaper and one day so will I. 
…
-Francis Duggan
______________________ 
 In Iqaluit, Nunavut, the Road to Nowhere serves as quite a tourist attraction for the small town.  What tourists may not see, however, are the many efforts taking place in Iqaluit and places like it all over Canada to conserve Inuktitut or Eastern Canadian Inuit Language.  While that conservation will be an uphill battle at times for a people whose ways of life exist largely only as memories, there is much to admire about the Inuit culture and people as they take charge of their language to conserve it.  Government intervention as well as grassroots conservation efforts to save the language and culture are many.  Not content to become strangers in their own villages or to have their language go the way of so many endangered or extinct species, the Inuit people of Eastern Canada reject the notion that they belong in the past as they vow to remain "Idle No More" by demanding their indigenous rights and put a stop to the decline of their language.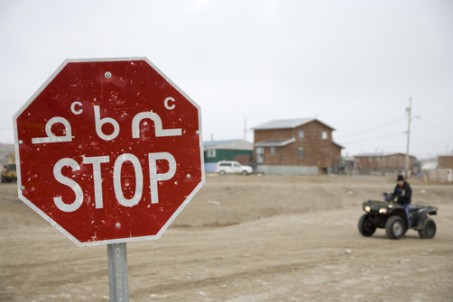 A STOP sign in Inuktitut and English in Gjoa Haven, Nunavut, Canada (National Geographic)
______________________________________________________
About Inuktitut  
Inuktitut is primarily a spoken language, but a written syllabary was adapted from the Cree syllabary in the late 1800s by Anglican missionaries lead by Edmund Peck.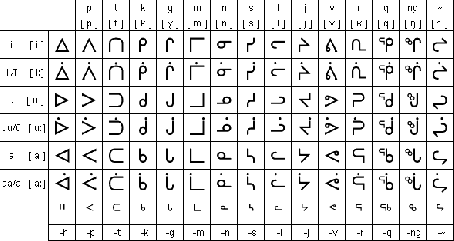 Above: The Inuktitut Syllabary
Inuktitut is spoken in Greenland, Nunavut, Nunavik (an area in Quebec), and Labrador.  It is currently considered "healthy" in Greenland and Nunavik, but it is endangered in Nunavut and Labrador. 85% of the population of Nunavut identifies as Inuit, but only 38% of those individuals consider themselves fluent (including the ability to read and write) and 40% reported a sense that they are losing their ability to speak Inuktitut.  Labrador's 2001 Census data, too, showed how great a need there is for language conservation in the province: of the 4,000 Labrador residents who identify as Inuit, just 550 reported Inuktitut as their "mother tongue."  These statistics show that, unlike with other endangered languages, there is a large number of people who identify strongly with the culture that Inuktitut is associated with.  Additionally, unlike other endangered languages, the median age of a Canadian Inuit is 22.  Ensuring that Inuit people in general — and young Inuit people especially — are given the opportunity to learn the language is the challenge being addressed by many conservation efforts.
 Above: An Inuit throat singing demonstration: "It was almost lost for a while until the elders decided that it was important for young people to start learning how to throat sing." (Smithsonian)
---
Challenges and Conservation: Government Efforts
Nunavut's Official Languages Act (2006) declares three official languages of the government of Nunavut: French, English, and Inuit language. Inuit language is now used in official government proceedings, the Nunavut Court of Justice, territorial office services, and (if demand is great enough) municipal services.  
The goal of the Inuit Language Protection Act (2009) is to increase the number of Inuit people who speak their aboriginal language by providing governmental support of Inuit language and education.  This Act also created the Inuit Language Authority, a branch of the Nunavut government.Inuit children are entitled to academic instruction in Inuit language from Kindergarten through third grade, a service that is to be extended through all grades by 2019.
Below: The official flag of Nunavut, featuring an Inuit Inuksuk)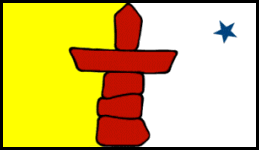 The National Strategy on Inuit Education (2011) seeks to increase attendance and graduation rates among Inuit children and teens through the use of Inuit language in schools.  Called "the greatest social policy change of our time" by Mary Simon, Chairperson of the National Committee on Inuit Education, the plan highlights the fact that roughly 75% of Inuit children do not graduate high school, and those who do soon experience firsthand the disparities in the quality of education received by indigenous versus non-indigenous Canadians.  It's goal is: "to graduate bilingual Inuit children who speak the Inuit language and at least one of Canada's two official languages, and who possess the skills and knowledge to contribute with pride and confidence to the 21st Century." 
"I think it would be better for everybody [if we learned Inuktitut in school]— not just for people to come to school, but because it would mean so much to the government and it would mean so much to you if you look at it in a good way.  It would just make you feel better about yourself.                                                              
I just believe that if I spoke my language I would be more connected to our spirits… and connected to the land and it would just feel very good… like, just lots of freedom on the inside… like, feeling it in your soul."
—Roxanne Anderson, a 17-year-old at Jens Haven Memorial School in Nain on the National Strategy on Inuit Education
(Click here to hear her full CBC interview)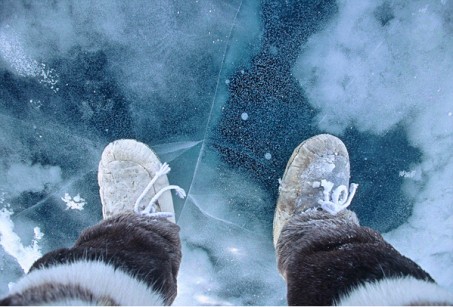 Image Source: The Office of the Languages Commissioner of Nunavut 
---
Modern Uses
Inuktitut is used in several modern contexts, including…
In official proceedings of the Nunavut government as of April 1, 2013 and the signing of the Nunavut Official Languages Act
---
 Challenges and Conservation: Grassroots Efforts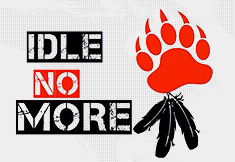 The Idle No More movement, the "Indigenous Rights Revolution," is sweeping North America.
 Inuktitut, like so many of Canada's indigenous languages, faces many challenges .  These include the high rates of unemployment among Canada's First Nations Peoples as well as the unequal treatment that is experienced by many Inuit people on a daily basis.  Because they feel that they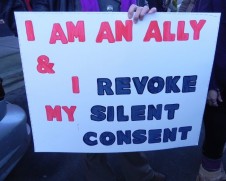 have been underrepresented in governmental proceedings and marginalized in social contexts, individuals who identify with indigenous groups have taken to staging large-scale protests, marches, demonstrations, rallies, and
spontaneous performances of indigenous music to convey the message that their history is still relevant today as an important part of Canada's culture.  
 Above: A protestor's sign demonstrates that an appealing part of the Idle No More movement is its openness to non-indigenous allies.  
"We contend that: The Treaties are nation to nation agreements between The Crown and First Nations who are sovereign nations. The Treaties are agreements that cannot be altered or broken by one side of the two Nations. The spirit and intent of the Treaty agreements meant that First Nations peoples would share the land, but retain their inherent rights to lands and resources. Instead, First Nations have experienced a history of colonization which has resulted in outstanding land claims, lack of resources and unequal funding for services such as education and housing."
Although the movement has not been largely focused on preserving endangered languages, their endangerment is indisputably a symptom of the land and resource inequality they seek to raise awareness of.  Language loss is an important part of the lack of representation sensed by many indigenous Canadians, and as their government increasingly requires municipalities to provide education and other services in indigenous languages those services will undoubtedly become a further source of community-building and empowerment for Canada's Inuit and other First Nations Peoples.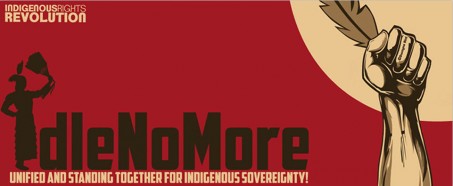 Above: An Idle No More demonstration in Ottawa on Parliament Hill in which non-indigenous and indigenous people (including Inuit and other First Nations people) joined together in a Round Dance to mark an Idle No More Day of Action.